Shot Blast Machine Links are made of maganese steel.
Press Release Summary: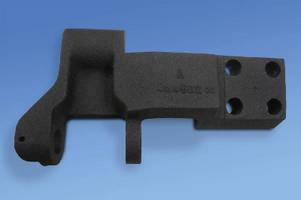 Made of manganese steel, Shot Blast Machine Links offer wear resistance and will naturally exceed life of links made from carbon steel. Bend test at 45° will not break flight attachment. Designed for Wheelabrator and Pangborn blast machines, links are heat treated for toughness and durability.
---
Original Press Release:

ASTECH Announces New Longer Life Links for OEM Shot Blast Machines



VASSAR, MICHIGAN - ASTECH Inc., recently introduced longer lasting alloyed links for blast machines to reduce downtime and link cost.

Astech has developed a new chemistry to provide longer lasting links compared to links made by OEMs. Longer lasting links mean less down time spent replacing links as well as reduced replacement costs.

Made of manganese steel - these links will naturally exceed the life of links made from carbon steel, day in and day out. Nothing stands up to the strength durability and wear resistance better than manganese.

Other significant advantages:

o Heat Treated - for toughness and durability

o Bend Test at 45 degrees - will not break the flight attachment

o Links are designed for these blast machines: Wheelabrator and Pangborn.

"Every foundry today is on alert to ensure manufacturing efficiencies are in place at all levels. Providing replacement links that last longer is an easy fix for any foundry. Our expertise as a foundry puts us in an ideal testing environment. We are pleased to bring the very best in blast links to reduce labor and part costs," said Alan Bukach, President, Astech Inc.

About Astech, Inc.

Astech Inc, is a manufacturer of high performance blast replacement parts for metal casting and the power industry as well as a steel jobbing foundry specializing in the production of castings for heat, wear and corrosion resistance. Alloys cast include: manganese steel, carbon steel, low alloy steel, stainless steel, tool steels, high chromium white irons and many nickel based alloys. Replacement blast parts are manufactured for these OEM blast machines: Wheelabrator, Pangborn, BCP, Goff and others.


More from Communication Systems & Equipment