Shortpass, Longpass, Imaging Filters offer deep blocking.
Press Release Summary: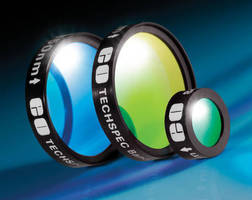 With series at 10 nm (213 models), 25 nm (108 models) and  50 nm (147 models), TECHSPEC® Hard Coated Filters include High Performance OD 4 Shortpass Filters, High Performance OD 4 Longpass Filters, and Imaging Filters. These products, fabricated using hard coated plasma deposition technology for performance and durability, provide high transmission of designated wavelengths and maximum blocking within few nanometers of laser wavelength to isolate narrow spectral regions in diverse applications.
---
Original Press Release:

Edmund Optics® TECHSPEC® Filters Improve System Performance



New Shortpass, Longpass, and Imaging Filters feature high transmission and deep blocking



Barrington, N.J.-Edmund Optics® (EO), the premier provider of optical components, introduces three new TECHSPEC® Hard Coated Filters: High Performance OD 4 Shortpass Filters, High Performance OD 4 Longpass Filters  and Imaging Filters . These new lines join existing Hard Coated OD 4 Bandpass Filters with series at 10nm (213 models), 25nm (108 models) and  50nm (147 models).



All of these filters have the advantage of fabrication using "hard coated" plasma deposition technology, which ensures high performance and allows for exceptional durability. They provide high transmission of designated wavelengths and deep blocking of unwanted wavelengths, featuring maximum blocking within a few nanometers of the laser wavelength, to isolate narrow spectral regions in a wide variety of applications.



Filters



TECHSPEC High Performance OD 4 Shortpass and Longpass Filters provide cut-off slope of <1%



TECHSPEC High Performance OD 4 Shortpass Filters and Longpass Filters both feature a cut-off slope of <1% with a rejection of OD>4.0 and 91% transmission in the pass band. Shortpass filters are available in 103 models, in wavelengths from 400nm to 1300nm in diameters of 12.5mm, 25mm and 50mm. The VIS Shortpass Filter Kit includes seven filters between 400-700nm and can be integrated into our filter wheels. Longpass filters are offered in 99 models, in wavelengths from 400nm to 1300nm in diameters of 12.5mm, 25mm and 50mm, with new 325nm, 350nm, and 375nm options available in September. Shortpass and Longpass filters may be combined to create a customized precision bandpass filter to eliminate stray light.



TECHSPEC Imaging Filters ideal for machine vision



TECHSPEC Imaging Filters are designed to meet demanding machine vision and imaging applications. Optimized for use with popular LEDs, the imaging filters pass or block specific UV, Visible, or IR wavelengths to provide very wide angles of incidence. Extremely high and flat transmission profiles provide even illumination; the filters improve image contrast and isolate spectral regions and colors. TECHSPEC Imaging Filters are available in 90 models with multiple mounting sizes and threads for easy system compatibility. All TECHSPEC Imaging, Shortpass, and Longpass Filters are in-stock and available for immediate delivery for fast turnaround and excellent value.



About EO:



Edmund Optics® is a leading supplier of optics, imaging, and photonics technology for the Life Sciences, Biomedical, Semiconductor, R&D, and Defense markets around the globe. EO designs and manufactures a wide array of multi-element lenses, lens coatings, imaging systems, and optomechanical equipment, while supporting OEM applications with volume production of both stock and custom products. EO's state-of-the-art manufacturing capabilities, combined with its global distribution network, has earned it the position of the world's largest supplier of off-the-shelf optical components. Customers can purchase items by calling 1-800-363-1992, via the catalog or the website at www.edmundoptics.com.



Company Contact:

Michael Deal

Assistant Marketing Manager

Edmund Optics®, Inc.

101 East Gloucester Pike

Barrington, NJ 08007 U.S.A.

Phone: 1-800-363-1992

Fax: 1-856-573-6295

email: mdeal@edmundoptics.com

More from Health, Medical, & Dental Supplies and Equipment