Shortpass Filters feature 3% slope factor.
Press Release Summary: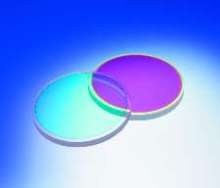 Tech Spec Series consists of 7 shortpass filters with cutoff wavelengths of 400, 450, 500, 550, 600, 650, and 700 nm. All are 3 mm thick with 25 mm diameter and 80% clear aperture. Surface quality is 20-10, with wavefront distortion of 1/10 wave. Made from UV-grade fused silica, filters offer average transmission of 85% and blocking optical density of 2.0. They are suited for fluorescence applications, separating spectral orders, and as part of custom bandpass filters.
---
Original Press Release:

Edmund Industrial Optics Announces Shortpass Filters


April 25, 2004, Barrington, NJ - Edmund Industrial Optics (EO) of Barrington, New Jersey has announced the release of a family of seven Tech Spec shortpass filters. These filters are useful for fluorescence applications, separating spectral orders, as part of custom bandpass filters, and for other applications because they provide a very sharp transition from transmission to reflection (cutoff).

This transition is measured by a percentage called the slope factor. While the slope of the cutoff can be estimated from a transmission curve, the slope factor quantifies this value. The slope factor is calculated by
1. subtracting the wavelength at which only 10% of the light is transmitted from the wavelength at which 80% of the light is transmitted,
2. dividing the result by the 10% wavelength, and
3. multiplying this number by 100 to get a percentage.

The sharper the cutoff, the closer the 80% and 10% wavelengths will be, and the smaller the resulting slope factor number. For the Tech Spec shortpass filters, the slope factor is an impressively small 3%.

The filters are available singly or in a kit containing all seven. Their cutoff wavelengths are 400, 450, 500, 550, 600, 650, and 700 nm. All the filters are 3 mm thick with a 25 mm diameter and an 80% clear aperture. Surface quality is 20-10, with wavefront distortion of 1/10 wave. The filters, made from UV-grade fused silica, offer average transmission of 85% and blocking optical density of 2.0.

About Edmund Industrial Optics Inc.
Edmund Optics (EO) has been a leading supplier of optics and optical components to industry since 1942, designing and manufacturing a wide array of multi-element lenses, lens coatings, imaging systems, and opto-mechanical equipment. EO is application-focused and pursues new ways to implement optical technology, enabling advancements in semiconductor manufacturing, industrial metrology, and medical instrumentation. Our staff and facilities span the US, Europe, Singapore, Japan, and China. EO's skilled optical engineers design precision products for use in research, test & measurement applications, and for the automation of manufacturing processes. Visit www.edmundoptics.com to learn more.

Jeff Harvey
Marketing Manager
Edmund Industrial Optics
856-573-6250 ext. 6825
jharvey@edmundoptics.com

More from Architectural & Civil Engineering Products