Accounting and Financial Software
Shoe Costing Software offers customizable reporting.
Press Release Summary: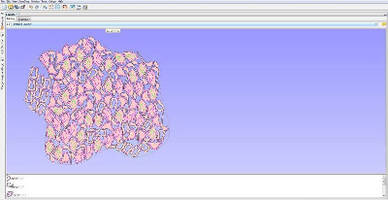 Integrating with other Delcam CRISPIN CADCAM packages by saving data into single file, ShoeCost v2014 streamlines design and manufacturing process, while giving manufacturers control over costs and profitability. Program provides breakdown of all costs involved in footwear manufacture, enabling users to compare actual cost of shoe to target cost. Users can choose from 38 variables, such as material color, total nested area, and efficiency of material usage, to include in customizable reports.
---
Original Press Release:

Delcam CRISPIN Launches New Shoe Costing Software



Delcam CRISPIN has released a new version of its ShoeCost software for the prediction and management of the cost of footwear manufacture.  Since the release of the original ShoeCost package several years ago, the product has become the market-leading footwear-costing solution, being trusted by a wide range of leading global brands.  The 2014 version offers a more intuitive interface and integrates more closely with other Delcam CRISPIN CADCAM packages to streamline the design and manufacturing process, whilst still giving manufacturers better control over costs and profitability.



ShoeCost 2014 provides a clear breakdown of all the costs involved in footwear manufacture, making it easy to compare the actual cost of the shoe to the target cost.  Costs can be included for cut pattern pieces and components, as well as for labour and overheads.  The overall cost for the shoe changes dynamically when the simple drag and drop functionality is used to add or remove elements of the design, such as pattern pieces and components.  This makes it easy for footwear professionals to stay within their target cost and to produce accurate costing reports quickly.



A key feature of ShoeCost 2014 is its flexible approach to reporting.  Every footwear manufacturer has a unique set of needs when producing costing reports.  Delcam CRISPIN has, therefore, made the interface fully customisable, enabling users to choose which tools to display and where to locate them on the screen, so making the software as easy to use as possible.



In addition, users can choose from 38 variables, such as material colour, total nested area, and efficiency of material usage, to include in their reports.  Each option can be selected from a menu, and the user can determine how each variable is presented on the screen, making it easier than ever for footwear professionals to produce a costing report that is specific to their business.



The latest updates make nesting for both leather hides and synthetic materials quick and easy.  Leather templates included with the software can be used immediately, while, for optimum accuracy, quality zones can be defined within digitised leather hides within just a few minutes.  ShoeCost allocates pattern pieces to an appropriate quality zone automatically, and can even utilise spare space in better quality zones if necessary to ensure that the maximum yield is achieved. 



Delcam CRISPIN has tested the software extensively to ensure that automatic nesting achieves the most efficient results. However, custom nesting is still possible by allowing users to change the interlocking method dynamically, so ensuring that they maintain full control at all times.



ShoeCost 2014 fully integrates with all other Delcam CRISPIN CADCAM products by saving data into a single file.  This means the user is not required to continually import and export multiple formats which takes time and can result in data loss.  Instead, all Delcam CRISPIN software uses a single .Shoe file which contains all information about every element of the shoe.  Just like other Delcam CRISPIN solutions, ShoeCost 2014 extracts the data it needs from the file for its part of the shoemaking process.  Pattern parts can also be imported in the DXF format.



Delcam CRISPIN is the world's leading supplier of specialist footwear CADCAM software.  It is the only provider of an end-to-end 3D solution that covers all elements of the shoemaking process from design through to manufacture.  It achieves this with a set of comprehensive, powerful yet easy-to-use tools that require minimal training. 



For further information on Delcam CRISPIN software for the footwear industry, please contact: -

Peter Dickin, Marketing Manager

Direct phone: 44 (0)121 683 1081  e-mail: marketing@delcam.com

More from Materials