Shock and Awe - REO-USA Reactor Aces Shock and Vibration Tests to Help Siemens Electric Drive System Boost Megaton Mine-Truck Speed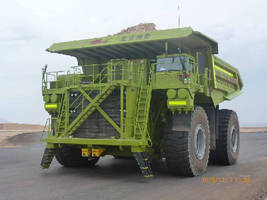 INDIANAPOLIS – REO-USA has a long history of developing three-phase transformers and air chokes for large mining trucks. They also lead in air chokes for traction applications in the railroad industry where vibration can rattle even the toughest components, providing reactors able to handle it and come back for more.



That experience triggered a design concept which helped them garner an assignment from Siemens Industry Inc., global leader in control systems, for a reactor that blends know-how from both industries: Line chokes for drive systems in mining industry haul trucks – and also, importantly, for use with an overhead trolley.



Winning the Request for Proposal competition, however, was only the beginning.



"The REO-USA concept closely matched what the Truck Product Manager, Xiaobin Wang visualized the reactor box to be," says Don Willis, Procurement Manager at Siemens. Wang concurred, noting the traction application for trains is very similar to mining.



"However, it needs to be much more robust," asserts Wang. "Railway vibrations are minimal compared to those generated by Mining Haul Trucks."



Ultra-tough to handle shocks from mega-ton hauls



These are among the industry's larger haul trucks, climbing out of coal, copper, iron ore or other mines with 330- and 360- short ton loads. The world's largest haul truck, which also utilizes Siemens technology, carries 500 short tons - or one million pounds - on every single trip.



The trucks operate in Namibia on Africa's west coast, just below Angola and above South Africa; Botswana is to the east. Here, the mine being developed by Swakop Uranium for nuclear power plants began production in December 2015. It is expected to become the world's second largest uranium mine, with the potential to produce 15 million pounds (7,500 short tons) per year for the next two decades.



No one gets a speeding ticket working this mine - six mph is considered good. Picking up the pace could pay big dividends in volume of ore hauled per day, per week and beyond. In fact, faster hauls are one of Siemens' key goals in seeking new, advanced technology. That's where the trolley system in particular comes in.



Development phase modifications; tests show design could double reactor life



In developing chokes able to meet Siemens' specs, designs focused on a choke for the DC overhead trolley used in conjunction with trucks. A complete assembly incorporates two identical reactors, each cooled by its own fan.



"While railway traction applications are similar to mining, railway shock and vibration requirements are relatively low compared to what's needed in mine operations," explains Wang. Knowing this, REO-USA toughened its original Siemens concept component with back-and-forth collaboration that led to an approved, test-ready choke.



Rigorous vibration tests designed to simulate mining conditions and achieve a typical system lifetime of 15 years were then conducted over a three-month period. The first round of vibration testing achieved an "almost but not quite" rating. According to Willis, REO-USA engineers closely analyzed issues that had emerged, made several modifications and the same reactor entered a second round of tests.



This time it came through with flying colors, meeting the 15-year lifetime target. Since the same reactor was tested in both rounds, it essentially withstood vibrations equal to two component lifetimes - about 30 years.



Wang said that Siemens drive systems in three haul trucks now incorporate the new chokes from REO-USA.



Trolley system with 'reactor box' option can nearly double haul speed



The trolley system is scheduled to enter service at the mine in June 2016, and will use the specially designed reactor box from REO-USA. With the trolley option, explains Wang, power comes from the overhead electric line, so the truck's diesel engine can "idle" all the way uphill, even when fully loaded. Speed will vary, of course, depending on the steepness of the grade.



Using the six mph figure noted earlier as a typical truck benchmark, trolley power can virtually double the pace to 11-12 mph. Depending on the length of the line, three or four trucks could be on-line at the same time, concurrently loading out three times the single-truck haul and twice as fast.



Thanks to close collaboration between all parties involved, Siemens is putting into play an advanced-technology haul truck system that can be aptly summed up in one word:



Awesome.



For more information, call 317-899-1395, email info@reo-usa.com, or visit www.reo-usa.com.



Related