Sheet Stacking System utilizes linear induction motor.
Press Release Summary: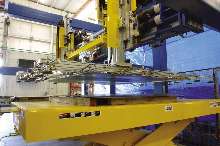 Shuttle-based RapidStack sheet stacking system carries payloads up to 150 kg per stacking head at acceleration up to 20 m/s² and velocity up to 5.5 m/s² with limitless travel length. Repeatability is ±0.1 mm, both horizontally and vertically. Shuttle provides quiet operation due to mechanism-free, floating-on-cam followers.
---
Original Press Release:

Automatic Feed's Rapidstack System Advances Stacking to a New Level


Napoleon, Ohio, Dec. 23, 2003 - Automatic Feed Company, a premier designer and manufacturer of coil handling and press feeding automation equipment, has recently introduced a linear induction motor-driven, shuttle-based sheet stacking system called RapidStack. The new system is capable of carrying payloads of up to 150kg (330lbs) per stacking head at an acceleration of up to 20 m/s² and velocity up to 5.5 m/s² with a limitless travel length due to the linear induction motor.

"We conceived this system to fill a gap in the availability of inexpensive, high-speed stacking systems requiring little floor-space," said Automatic Feed's President, Kim Beck. "After introducing this new concept to a few customers, it became quickly apparent that we had a hot idea. Since installing the first system, we're fielding inquiries from as far away as Germany."

The first RapidStack system -- in operation since August 2003 -- is operating at 27-strokes per minute handling large, automotive-grade outer panel blanks at a North American supplier. At the heart of the system's speed is a unique shuttle from ATR-Strothmann based upon an operating principle akin to the high-speed 'magnetically levitated trains' developed in Germany and first made operational in China in 2002. The shuttle, agile-but-simple, is unusually quiet due to its mechanism-free, floating-on-cam followers design.

Despite its unique motion, the Strothmann linear motor shuttle consists entirely of standardized components and offers high repeatability: +/- 0.1mm, both horizontally and vertically.
A close cousin to the stacker, a RapidDestack is in the works for use as a sheet destacker for DaimlerChrysler and is anticipated to be into operation in the Summer of 2004.

A variety of Automatic Feed systems are currently used by DaimlerChrysler, Ford, General Motors, Toyota, and Nissan, as well as many Tier One automotive suppliers. For more information on Automatic Feed products and Systems, visit www.automaticfeed.com

More from Computer Hardware & Peripherals