Sheet Molding Compound Preheater is effective for thick bosses and structures.
Press Release Summary: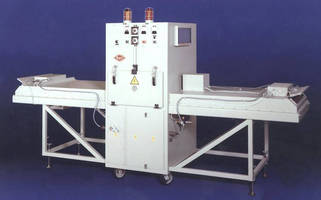 Macrowave(TM) SMC Preheater for plastic sheet molding compound (SMC) utilizes Radio Frequency Heating Technology and provides uniform heating throughout entire thickness of compound. Capable of preheating SMC loads up to 30 x 84 in. in less than 1 min, system has PLC which controls heat cycle time, power level, and conveyor movement to synchronize with press operation. Product's conveyor can feed SMC charge straight through press or return it to feed end after heating.
---
Original Press Release:

Sheet Molding Compound Preheater Improves Part Quality, Cuts Press Cure Time by 50%



Improves Part Quality, Cuts Press Cure Time by 50%

A New Preheating System for plastic sheet molding compound (SMC) that uses Radio Frequency Heating Technology is being introduced by Radio Frequency Co., Inc. of Millis, Massachusetts. This new system is reported to enhance the distribution of reinforcement fibers in the molding process which enhances product quality and strength, reduces press cure time by 50%, and is especially effective for thicker bosses and structures.

The Macrowave(TM) SMC Preheater provides uniform heating throughout the entire thickness of the sheet molding compound instantly, without requiring any temperature differential to force heat by conduction from the surface to the center. Facilitating the movement and distribution of fibers throughout molded parts, improving their strength and surface finish, this RF preheater reduces press cure time which enables a 100% increase in productivity for an existing press!

Capable of preheating SMC loads up to 30" W x 84" L in under one minute, the Macrowave SMC Preheater has a PLC which controls the heat cycle time, power level, and conveyor movement to synchronize with the press operation. For optimizing efficiency, the conveyor can either feed the SMC charge straight through the press or return it to the feed end after heating.

The Macrowave SMC Preheater is priced from $95K up, depending upon belt size and other customer requirements. Literature is available on request.

For more information contact:

Radio Frequency Co., Inc.

Tim Clark, President & General Manager

150 Dover Road

Millis, MA 02054

(508) 376-9555 FAX: (508) 376-9944

e-mail: tclark@radiofrequency.com

www.radiofrequency.com