Sheet Metal Testers offer integrated strain analysis.
Press Release Summary: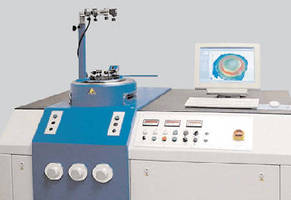 Models 142-20 and 142-40, featuring electro hydraulic drive, fully automatic test sequence, and switch off at specimen failure, respectively offer max drawing forces of 200 and 400 kN. Integrated 3D optical image analysis software, AutoGrid Vario, determines field of strain values in range of 0.5% to more than 100% without any unambiguity. By combining data collected from both systems, user is provided with true understanding of how sheet metal behaves during forming process.
---
Original Press Release:

Sheet Metal Testing with Integrated Strain Analysis



Qualitest presents the latest technology in automatic strain analysis and forming limit curve (FLC) determination. The system consists of a combination of a modern Sheet Metal Testing Machine, Model 142 and AutoGrid Vario automatic strain measuring system.

Integrating the most advanced 3D optical image analysis software on the market, AutoGrid Vario, with a sophisticated sheet metal testing machine, Model 142, and combining the data collected by both systems provides the user with a true understanding of how the sheet metal behaves during the forming process. The combination of strain analysis data, drawing stroke, drawing force and sheet holder force truly simplifies the generation of reliable forming limit curves (FLC).

As an additional feature, the data evaluation software of the Sheet Metal Testing Machine displays information on Elongation, tensile strength and the nE-value. Considering the complex technologies involved, Qualitest has succeeded in keeping the system user friendly and compact, integrating two advanced software components into one user friendly solution. All relevant information can be evaluated using one interface.

The AutoGrid Vario strain analysis system has been designed to meet our customers need for highest flexibility in the optical setup, measurement volume and local resolution. The direct, fast, and accurate measurement is based upon the automatic evaluation of grid patterns that consist of electrochemically-marked orthogonal lines spaced 1-5 mm. The system is able to determine a field of strain values in the range of 0.5 % to more than 100 % without any unambiguity.

Model 142-20 and Model 142-40 is a Universal Sheet Metal Testing Machine with electro hydraulic drive, fully automatic test sequence and switch off at specimen failure, max. drawing forces 200 kN or 400 kN. This Testing Machine can be used not only to perform effortlessly, quickly and accurately all important and known deep drawing tests for ferrous and non-ferrous metals, but it is also designed for a large number of additional technological investigations such as bore expanding test, Perzos Cupping test, Fukui test, Engelhardt test and many other specific test methods.

To find out more about how Model 142 with integrated AutoGrid Vario Strain analysis can solve your analysis and testing needs please visit http://www.WorldofTest.com/autogrid142system.htm

Qualitest offers a wide variety of testing equipment for the steel and metal industry. Our complete Steel and Metal Testing portfolio is available at www.worldoftest.com and features: Universal Testing Machines, Hardness Testers, Impact Testers, Drop Weight Tear Testers, Metallographic Equipment, Sheet Metal Testers, Fatigue Testing Machines, Sample Preparation Equipment, XRF and AAS Spectrometers, Profile Projectors, Surface Roughness Testers and Ultrasonic Thickness Gauges.

More from Fluid & Gas Flow Equipment