Sheet Metal Impact Markers are engineered for reduced noise.
Press Release Summary: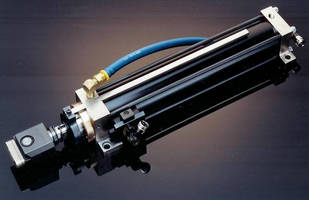 Powered by factory air and controlled by 4-way air valve with regulator, Slide-A-Mark(TM) features stamp holder mounted stationary on opposite side of part in molded sound suppressor material slightly raised above stamps. Impact force is consistent and can be varied by controlling actuation air pressure. With floating holder adapter, slight Not Square part issues can be accommodated. Strokes can range from 2½-12 in., while marking pressure remains same anywhere within stroke.
---
Original Press Release:

Columbia Marking Tools Slide-A-Mark Double Acting Impact Markers Quiet the Marking of Sheet Metal Parts



Stamp holder/retainer mounted into a molded sound suppressor material reduces the transmitted sonic noise/vibration.

Columbia Marking Tools, Inc. pioneered the development of the double-acting air-operated impact markers and for many years the model 651, 751 & 851 Slide-A-Mark(TM) units have been the preferred choice for applying impact marks in a wide variety of materials, particularly sheet metal parts. This very cost-effective type of marking typically marks such things as date & shift codes, QC marks, part numbers, traceability marks, company logos, lot numbers, trademarks and even some staking operations.

In many sheet metal applications, impact marking is the ideal process of choice. However, users are always looking for methods of quieting down the noise from the hitting action. Recently, Columbia Marking Tools developed a concept where the stamp holder is mounted stationary on the opposite side of the part in a special molded sound suppressor material which is slightly raised above the stamps, Fig. 1. The impact marker utilizes a floating holder anvil adaptor attached to the end of the marker. As the marker pre-loads the part before firing its internal hammer, the sheet metal is pressed into the molded sound material which reduces a portion of the transmitted sonic noise/vibration. Application has shown that the stamps and retainer last longer, can still be easily changed and the concept accommodates those situations where there is not enough room to mount the marker in the desired area.

The impact marker units, Fig. 2, utilize a two-stage impact marking sequence where the marker telescopes out to pre load the stamp or staking tool against the work piece and then the cylinder fires an internal hammer generating a consistent impact force which is varied by controlling the actuation air pressure. With a floating holder adapter, slight 'Not Square' part issues can be accommodated. Each model is offered with optional retracted or dual position sensors for return and advanced position of the cylinder stroke to augment their application with automation. By simply loosening a mini dovetail clamp, the advance position sensor can be adjusted to one inch. Strokes can range from 2-1/2 to 12-inches while the marking pressure remains the same anywhere within the stroke. Slide-A-Marks are powered by factory air and controlled by a standard 4-way air valve with a regulator to vary the marking force. It is recommended the shop air supply should be a ½-inch air line with a maximum pressure of 100 psi.

Columbia Marking Tools is a leading designer and manufacturer of metal and plastic marking equipment including stamps, roll marking dies, roll marking and impact marking machines, fully programmable pulsed fiber diode laser, peen/scribe marking and UID/2D Square Dot® machines, numbering heads and special marking machines.


Related