Sheet Hydroforming Presses offer integrated tool change.
Press Release Summary: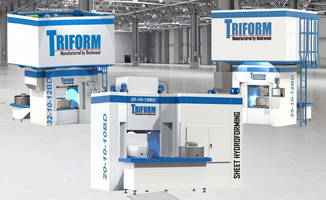 Along with pressure containment system, Deep Draw 20-10-10BD, 25-10-12BD, and 32-10-12BD feature ergonomic tool change system, precision pressure and position control with built-in recipe handling capability, and In-Sight visual inspection function. Optional t-table lets operator stage secondary cartridge for accelerated tool changes, and system also lets press convert from Deep Draw configuration to Fluid Cell configuration. Configurability further supports horizontal or vertical layout.
---
Original Press Release:

Triform Improves Deep Draw Sheet Hydroforming Presses with Faster Cycle Times, Integrated Tool Change



Beckwood Press Company, manufacturer of advanced hydraulic press solutions and the Triform line of specialty forming presses, has advanced its Triform sheet hydroforming product line with the introduction of several new Deep Draw models. The 20-10-10BD, 25-10-12BD and 32-10-12BD models represent a tremendous amount of knowledge gained over the past decade of hydroforming press manufacturing and include several key advantages over other available forming equipment.



"Over the past several years, we intently listened to our customer base and the market in general," said Bob Blood, Triform's Technical Sales Manager. "The resulting BD models represent a consolidation of that feedback, with several important built-in advantages that separate these models from everything else that's come before."



Improved Cycle Time: Updates to the pressure containment system have resulted in significantly improved cycle times while maintaining the same 'Infinite Life' structural standards to which every Beckwood / Triform press is manufactured. This 'block design' containment strategy has been in use by Triform for years, on their smaller 12" and 16" Deep Draw presses, as well as the full line of Fluid Cell presses.



Integrated Tool Change: Every new BD Deep Draw press comes equipped with Triform's standard, efficient and ergonomic tool change system that will greatly reduce changeover times. A cartridge-style chamber is conveyed through the rear opening of the press, presenting the blank holder and punch to the operator. An optional t-table allows the operator to stage a secondary cartridge (including the blank holder and punch) for even faster tool changes. The system also allows the press to quickly convert from a Deep Draw configuration to a Fluid Cell configuration, for shallow forming without the need for a moveable punch tool.



Reduced Footprints: The new BD designs are configurable, giving the customer options for either a horizontal layout (with the hydraulic power unit positioned to the side of the forming chamber), or a vertical one, which features a crown-mounted HPU. For those whom floor space is a concern, the vertical configuration is significantly smaller than previous Triform models with the equivalent forming area.



In addition to these newly introduced advantages, the BD Triform models carry over the same unique benefits of the existing Triform Deep Draw models. These include precision pressure and position control with built-in recipe handling capability. Triform's own 'In-Sight' feature, which allows the operator to pause and open the chamber, at any point in the cycle, for a visual inspection of the forming process, is also included as standard.



www.beckwoodpress.com l www.triformpress.com l 889 Horan Drive l Fenton, MO 63026 l 636.343.4100



The new Triform BD models are also compatible with existing hydroforming tooling. With many manufacturers operating outdated hydroforming presses, manufactured decades ago by Cincinnati and other manufacturers, the seamless accommodation of existing tooling is critical.



"We are thrilled to see our new BD models gain such a fast adoption in the industry, by organizations operating at the highest levels," said Blood. "These new Triform models allow our customers to reduce set-up times, scrap rates and in-process adjustments. The new flagship models continue the long-standing mission of Triform, taking the hydroforming process from a Black Art to an Applied Science by producing a repeatable process," he continued. "We didn't invent the sheet hydroforming process, but we re-invented the way the process works for our customers!"



About Beckwood Press Company:

Beckwood Press Company is a leading hydraulic press manufacturer, located in St. Louis, MO USA. They offer quality, custom hydraulic presses for virtually every industry and application, including a line of temperature controlled presses for compression molding, composite forming and high-temperature Hot Forming / SPF applications. Beckwood also manufactures the Triform line of Sheet Hydroforming Presses in both Fluid Cell and Deep Draw configurations, hydraulic ring expanders / sizers, hot joggle presses, as well as a line of stretch forming machines for both extrusion, sheet / leading edge applications. Get the latest news from Beckwood at http://www.beckwoodpress.com/news.



Contact: Christie Williams

800-737-0111 (ext. 133)

info@beckwoodpress.com

More from Food Processing & Preparation