Sheet Extrusion System suits inline thermoforming/roll stock.
Press Release Summary: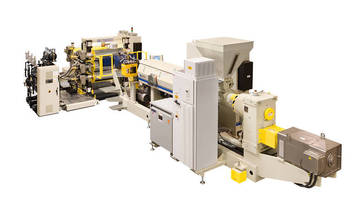 Offered in monolayer or coextrusion formats, GLOBALINE® produces sheet from materials such as PP, PS, PET, and polylactic acid in widths of 40 or 60 in. It can be configured for production outputs between 650-3,900 lb/hr. Design includes linear bearing mounted frame infrastructure; pivoting extruder base via hydraulic jacking system, simplifying screw removal/maintenance; and touchscreen controls. Available in NPE version for inline thermoforming or full-length for producing roll stock.
---
Original Press Release:

GLOBALINE® Debuts at NPE2009 - Efficient, Pre-Engineered Sheet Extrusion Systems



Aurora, IL, June, 15, 2009 - PTi's new product line, aptly named GLOBALINE®, will be unveiled at NPE2009. GLOBALINE was developed to fulfill the need in the global market place for a cost effective solution configurable as a compact unit (NPE version) for inline thermoforming or a full length configuration for producing roll stock. The GLOBALINE® will emphasize flexibility; allowing processors to efficiently produce smaller runs of sheet from key materials such as PP, PS, PET and polylactic acid, the bioresin known as PLA.

Dana Hanson, President of PTi, said "The GLOBALINE has been engineered to cut delivery times and costs, with lead times trimmed 30%-40% and a price tag that's much lower than custom designed machines." "Incorporating a patent-pending, linear bearing mounted frame infrastructure, among other features," Hanson says, "mechanical system installation can take only two to three days."

"The GLOBALINE brand is available in two unique platforms distinguished by finished product widths of 1.0 or 1.5 m (40 or 60")," stated Hanson. "Depending on the application and the customer requirement, the GLOBALINE can be configured for a range of production outputs between 300 - 1750 kg/hr (650 - 3900 lbs/hr). All GLOBALINE systems are available in mono-layer or co-extrusion formats for A/B, A/B/A, A/B/C, and more."

GLOBALINE is a key part of PTi's worldwide strategy for expanding in regions such as Russia, Eastern Europe, South America, China and India, said John Chalmers, Vice President of Sales and Marketing. "Rigid Packaging, particularly for food and medical applications is a growing market in those countries", he said. "We appreciate that in developing markets customers aren't able to dedicate their production to one particular product. GLOBALINE will allow them to run multiple products efficiently on one machine. We're taking a proactive stance to develop a machine that's going to address the needs of these developing markets."

GLOBALINE features pre-engineered, compact, components that are configurable to customer specific production requirements. The modular design offers many unique features such as:

- Integral Ratchet Actuated Gap Positioning and Display (patent pending)

- Integral Ratchet Vertical Nip Height Positioning (patent pending)

- Linear bearing mounted frame infrastructure for precise retraction and ease of installation (patent pending)

- Universal anti-stat coater for top, bottom and both side coating applications (patent pending)

- Pivoting extruder base via a unique hydraulic jacking system for ease of screw removal and maintenance

- Touch screen controls featuring on line tutorial instructions for start-up and shut down sequencing as well as AutoRamp(TM) automatic - line coordination control

- Individual roll drives

- Quick style electrical plug-ins throughout for ease of installation and maintenance

- Mechanical system installation in 2 - 3 days

GLOBALINE also has applications in markets where extremely short production timelines and cost reductions are the rule rather than the exception. Being a pre-engineered system, the cost is reduced and lead times / speed to market are greatly improved. GLOBALINE's pre-engineered modular lines can provide solutions for:

- Rapid start-ups with cost containment. Perfect for Contract Packagers or for larger companies needing small, versatile machinery for use in pilot lines for new product development, rapid product deployment or market testing

- JIT(Just In Time) production needs - GLOBALINE is ideal for smaller quantity, decentralized production lines

For more information on GLOBALINE, contact John Chalmers, VP of Sales & Marketing at PTi, jchalmers@ptiextruders.com or visit www.ptiextruders.com

Headquartered in Aurora, IL, Processing Technologies International, LLC (PTi) manufactures a wide range of single screw extrusion systems for applications that include Sheet, Film, Foam, Compounding, Pipe & Profile and Reclaim Systems. PTi's machinery is marketed under the brands of TRIDENT® extrusion systems; REVOLUTION® roll stands; GLOBALINE world standard sheet lines; and TITAN® and TITAN® Plus Integrated PLC Computer Control Systems. Systems are configured for each application based on specific customer requirements and designed with today's most advanced technology.

More from Sensors, Monitors & Transducers