Shear Pumps can be cleaned and sanitized in place.
Press Release Summary: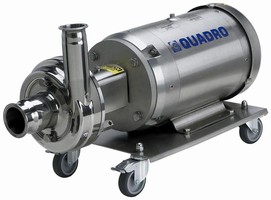 Targeting food and beverage industry, ShearFX Series features 4 different models ranging from 10-75 hp with capacities up to 250 gpm. Multiple tooling styles are available, allowing balance between shear energy and pumping efficiency. Design of pump and tooling offer ease of installation and maintenance while meeting stringent hygienic standards for being CIP-able and SIP-able. Various other options are available including selection of motors, controls, and portable bases.
---
Original Press Release:

"NEW" from Quadro Engineering - ShearFX Pump Series!



Quadro is pleased to announce the launch of the ShearFX Series, a new line of shear pumps that extends our in-line deagglomeration and homogenizer offering into self-pumping applications at this year's Process Expo in Chicago (November 9 - 13, 2008, Booth No.: W-12091). To the Food & Beverage industry, Quadro ShearFX is the brand of shear pump that offers an ideal balance between process shear energy and pumping efficiency due to an optional multi-row toothed rotor/stator design and close impeller tolerances. The ShearFX provides the performance of any multi-row single stage homogenizer with a lower cost of ownership due to its combined centrifugal pumping.

The ShearFX Series features four different models ranging from 10-75Hp with capacities up to 250gpm. Multiple tooling styles are available allowing a balance between shear energy and pumping efficiency for each process. The design of the pump and tooling offer ease of installation and maintenance while meeting stringent hygienic standards for being CIP-able and SIP-able.

Various other equipment options are available including a selection of motors, controls, portable bases, etc. For more information, please contact;

Canada & International:

Quadro Engineering Corp.
613 Colby Drive
Waterloo, ON N2V 1A1
E-mail: sales@quadro.com
Website: www.quadro.com
Telephone: (519) 884-9660
Fax: (519) 884-0253

USA:
Quadro (US) Inc.
55 Bleeker Street
Millburn, NJ 07041-1414
E-mail: sales@quadro.com
Website: www.quadro.com
Telephone: (973) 376-1266
Fax: (973) 376-3363

VISIT US @ PROCESS EXPO 2008
I N BOOTH NO.: W-12091