Shaker Head Expanders allow testing of multiple items at once.
Press Release Summary: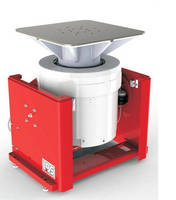 Cast in magnesium alloy, LDS head expanders have Finite Element Analysis design that ensures products are usable over large frequency range. Expanders, when coupled with shaker system, enable vibration testing on many different applications, such as helicopter gearboxes, aircraft engines, and performance car components. Units also offer lifting capabilities to ensure user's safety.
---
Original Press Release:

Increased Shaker System Capacity



Brüel & Kjær launch a new range of LDS head expanders

Sound & vibration expert Brüel & Kjær has launched a quality range of LDS head expanders to increase the capability for customers' existing shaker systems.

Head expanders allow users to increase the effective mounting surface, which in turn provides more room for assessing bigger loads. It also offers them the opportunity to test several items at once, thereby reducing the time and cost spent.

The robust head expanders are cast in magnesium alloy - an extremely high strength material with excellent damping properties - used mainly within aerospace, automotive, military and electronics industries. The optimised Finite Element Analysis (FEA) design ensures the head expanders are usable over a very large frequency range. Coupled with the shaker system, the expanders boost the versatility for vibration testing on many different applications, such as helicopter gearboxes, aircraft engines and performance car components.

Each head expander is supplied with specific lifting capabilities to ensure the user's safety, whilst allowing them to fit expanders quickly.

LDS - part of Brüel & Kjær since 2008 - is a world-leading design and manufacturer of vibration testing system, vibration controllers, and data acquisition systems.

For more information about LDS Head expanders, please visit: www.bksv.com/lds

About Brüel & Kjær

Brüel & Kjær is a world-leading manufacturer and supplier of sound and vibration measurement systems. Brüel & Kjær helps its customers measure and manage the quality of sound and vibration in their products and in the environment. Focus areas are aerospace, space, defence, automotive, ground transportation, airport environment, urban environment, telecom, and audio.

Brüel & Kjær has an unparalleled portfolio of sound and vibration equipment, and is a renowned deliverer of innovative instrumentation, including sound level meters, microphones, accelerometers, conditioning amplifiers, calibrators, noise and vibration analysers and software. To see the full range of products and systems, please visit www.bksv.com.

Brüel & Kjær also runs a variety of training courses, from basic introductions to noise and it's effects to more specialised classes teaching customers how to get the most out of their equipment. Free, online training courses - conducted by our expert engineers - run throughout the year too. For all course registration details visit www.bksv.com/courses.

Brüel & Kjær is a subsidiary of UK-based Spectris plc (www.spectris.com) that has annual sales of £787m and employs around 6,000 people worldwide in its 13 business units. Brüel & Kjær has 1150 employees worldwide, and is represented by sales offices in 55 countries.

For additional information please contact:

Heather Wilkins

Marketing Coordinator

Bruel & Kjaer

Telephone: 01763 255 780

Web: www.bksv.com

Email: heather.wilkins@bksv.com

More from Electrical Equipment & Systems