Shaft Locking Bushing ensures roll forming wheels stay aligned.
Press Release Summary: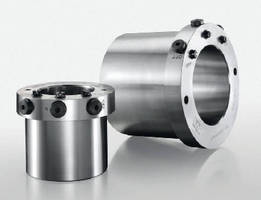 By centering, synchronizing, and locking roll forming wheels into position, ETP Hyloc™ ensures smooth, consistent barstock. Adjustable unit can be repositioned on shaft or removed for changing to another roll forming wheel size. Available for 50–220 mm shaft diameters, bushing has internal double-walled steel sleeve that encloses conical-shaped, moveable piston. When pressurized using hydraulic pump, sleeve expands uniformly against shaft and hub to form continuous and rigid connection to shaft.
---
Original Press Release:

ETP Hyloc(TM) Shaft Locking Bushings from Zero-Max Center and Fasten Roll Forming Wheels in Steel Processing Systems - They Maintain Accurate Position and Synchronization Under Heavy Loads



Plymouth, Minnesota: Forming steel into different size barstock requires positioning and fastening a system's roll forming wheels with accuracy so they stay in alignment throughout the process. The ETP Hyloc™ provides the robust hub-shaft connection in these difficult operating environments, providing excellent concentricity despite high torque and radial loading of the system.



Each roll forming wheel in the system shapes steel material into barstock as it passes through the system. The wheels are centered,synchronized and locked into position using ETP Hylocs™. By using the Hyloc™, a rigid connection is made between the roll forming wheels and shafts. This precise and accurate shaft to roll forming wheel connection produces smooth and consistent barstock. Easily adjustable, the Hyloc™ can be quickly repositioned on the shaft orremoved for changing to another roll forming wheel size. This minimizes system downtime.



Available for shaft diameters from 50 - 220 mm, the ETP Hyloc™ is designed with an internal double-walled steel sleeve that encloses a conical shaped, moveable piston. When pressurized using a hydraulic pump, the ETP Hyloc™ sleeve expands uniformly against the shaft and hub to form a continuous and rigid connection to the shaft.



Providing excellent concentricity to the mounted components, the ETP Hyloc™ can be reset at different positions on the shaft without losing concentricity. Transmittable torque can be varied by altering the mounting pressure.



ETP Hylocs™ from Zero-Max are also ideal for automated pipe bending and similar heavy duty systems requiring shaft-locking components. Many additional ETP models are available for virtually every motion system where shaft driven components are utilized. Applications include food processing, packaging and all types of automated assembly systems from the very smallest to the largest. 



See at: www.zero-max.com

Or call for FREE brochure, 1-800-533-1731. Outside US and Canada, call 763-546-4300.

Email: zero-max@zero-max.com

More from Fluid & Gas Flow Equipment