Shaft Collars feature quick-release, self-locking design.
Press Release Summary: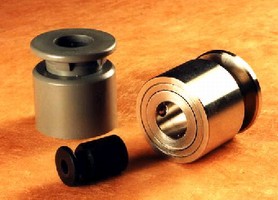 Offered in inch and metric sizes, Grip Fast(TM) A 7Z34 Series is suitable for fastening rotating components and as limit stop for 23 shaft sizes from 1/8-3 in. Collars absorb vibration and shock, and can be removed or adjusted in seconds using one hand, without tools. To operate, user slides Grip Fast onto shaft to correct location. Unit will automatically lock into position. To release, user pushes Grip Fast slightly forward, squeezes between end ring and outer body gap, and slides collar off.
---
Original Press Release:
New Series of Grip Fast(TM) Quick Release Shaft Collars
New Hyde Park, New York - A new series of Grip FastTM quick release shaft collars from Stock Drive Products (an ISO 9001 manufacturer) are self-locking, quick release collars that can be removed or adjusted in seconds using only one hand, without tools. Applications for this patented system are numerous, and include: fastening rotating components, and as a limit stop for 23 shaft sizes ranging from 1/8" up to 3". Identified as the A 7Z34 Series, they absorb vibration and shock, lower downtime, and maximize production time. To operate: 1-simply slide Grip FastTM onto the shaft to the correct location. 2-It will automatically lock into position. 3-To release, simply push Grip FastTM slightly forward. Then squeeze between the end ring and outer body gap (to cause the gap to become wider). Then slide Grip FastTM off. Availability is from stock in both inch and metric sizes. Here is how they work. There are six basic components. The inner mechanism is comprised of three steel balls, one retention ring with a tapering inner diameter, and one spring. The ABS composite housing consists of one inner body, an outer sleeve, and an end release ring. The inner body is drilled to accommodate the three balls so that they emerge through its inner diameter. They rest against the tapered retention ring. This causes the ball bearings to squeeze down on the cylindrical shaft with the same size OD as the inner body's bore, jamming the ball bearing between the shaft and the retention ring. This locks the Grip FastTM (and any object it is set up against) in the opposite direction. An undercut between the retention ring and outer sleeve gives the ring more flexibility, which under unsymmetric loading, causes more uniform distribution of the forces in the balls. The housing parts hold all of this together and are spring-loaded. To release the Grip FastTM, the inner body is pulled back through the inside of the outer sleeve, pulling the ball bearings out of the gap between the inner body and the shaft, and releasing the collar's hold on the shaft. The spring forces the inner body back to the closed position. The distance that exists between the end release ring and the outer sleeve is designed to allow one handed release. Detailed technical specifications for inch sizes are contained in Catalog D790, available free upon request from Stock Drive Products, 2101 Jericho Turnpike, P.O. Box 5416, New Hyde Park, New York 11042-5416. Phone: 516-328-3300 Fax: 516-326-8827. Web: www.sdp-si.com Company Name: Stock Drive Products/Sterling Instrument Address 1: 2101 Jericho Tpke. Address 2: P.O. Box 5416 City: New Hyde Park State: NY Zip: 11042-5416 Country: USA Phone: 516-328-3300 URL: sdp-si.com/press/new/Shafts18_1.htm Contact Name: Herb Arum Title: Marketing Manager E-mail: cpratt@sdp-si.com
Contact This Company Download Spec Sheet
More from Controls & Controllers