Shaft Clamps are standard on encoders.
Press Release Summary: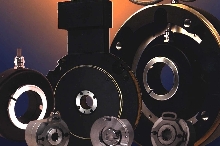 Accu-Coder(TM) hollow shaft and thru-bore encoders offer shaft clamp mounting mechanism, which grips all surfaces of shaft evenly and is less likely than set screw arrangement to slip in presence of heavy vibration. Clamp will not mar or score shaft.
---
Original Press Release:
Shaft Clamps, Preferred By Most Users, Are Now Standard On EPC Encoders

SANDPOINT, IDAHO, April 18, 2002: Encoder Products Company (EPC), manufacturer of the popular Accu-Coder(TM) brand encoders, now offers shaft clamps on nine of its ten models of hollow shaft and thru-bore encoders, and at no increase in cost to the customer. Although more expensive to design and manufacture, a shaft clamp mounting mechanism has certain advantages over the more traditional set screw arrangement for mounting encoders: A shaft clamp grips all surfaces of the shaft evenly and is much less likely to slip in the presence of heavy vibration; a shaft clamp will not mar or score the shaft to which it is mounted like a set screw can; set screw mounting schemes can exaggerate any axial play in the motor shaft, decreasing long term reliability; and, in applications involving commutation, calibration is much easier.

All Accu-Coder(TM) brand encoders are manufactured to EPC's exacting standards to ensure the quality you've come to expect from the Accu-CoderTm brand. And, with EPC's exclusive three-year warranty, you can be confident your Accu-Coder(TM) will provide years of trouble free use.

For additional information contact EPC, PO Box 1548, Sandpoint, ID 83864, 800-366-5412, www.encoderproducts.com.
Related