Shaft Alignment Tool helps eliminate human error.
Press Release Summary: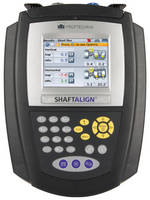 Powered by rechargeable batteries, SHAFTALIGN® features TFT backlit color display that shows all relevant alignment results on one screen. Auto-flow capability, which delivers Dimension-Measure-Results functionality, guides user to obtain desired machinery alignment condition, and Active Clock measurement mode automatically collects laser coordinates for corresponding shaft position. Unit requires 3 readings over rotation angle of less than 70º to achieve precision alignment.
---
Original Press Release:

SHAFTALIGN® Redefining Shaft/Coupling Alignment



SHAFTALIGN is a high precision easy-to-use shaft alignment tool incorporating human error proof functions.

With its TFT backlit color display it combines simplicity of operation with precise measurement and state-of-the-art technology.

Intuitive auto-flow capability - DIMENSION-MEASURE-RESULTS - guides the user to obtain the desired machinery alignment condition. The innovative "Active Clock" measurement mode automatically collects the laser coordinates for the corresponding shaft position. Only 3 readings over a rotation angle of less than 70º are required to achieve a precision alignment. All relevant alignment results are displayed in one screen including the alignment status evaluation through☺(Smiley) and LEDs.

A built-in light sensor optimizes screen image quality and power management. Rechargeable batteries save operating cost and contribute toward a greener environment.

SHAFTALIGN is upgradable to more powerful features as alignment requirements increase. The tool offers a variety of options to generate and archive alignment measurement reports through its freeware ALIGNMENT REPORTER PC Software or through the direct reports as PDF to a memory stick.

Precision alignment contributes to savings in the consumption of electricity, extends the life of bearings, seals and couplings and thus the Mean-Time-Between-Failure.
SHAFTALIGN, a real money saver!

http://www.ludeca.com/prod_shaftalign.php

About LUDECA

LUDECA is a vendor of Preventive, Predictive and Corrective Maintenance Solutions including machinery alignment, vibration analysis and balancing as well as software, services and training. For more information, visit www.ludeca.com

Related