SGs Protocol Emulator implements mobile terminating SGsAP procedure.
Press Release Summary: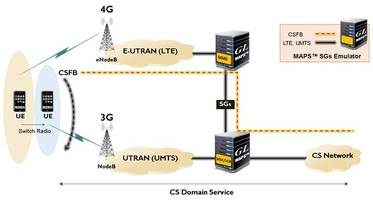 Featuring interface between Mobility Management Entity in Evolved Packet System and Visitor Location Register, SGs Protocol Emulator uses application part protocol messages. Allowing location management co-ordination, unit enables to relay messages related to GSM circuit switched services over EPS system. With procedures like paging and location update for non-EPS services, device offers MM information and mobile originating SMS service procedures.
---
Original Press Release:
GL Announces SGs Protocol Emulator for Circuit Switched Fall Back in LTE
GL Communications Inc., announced today its latest product MAPS™ SGs Protocol Emulator with support for Circuit Switched Fall Back (CSFB) and SMS procedures over SGs Interface.
Speaking to the press, Mr. Karthik Ramalingam, a Senior Manager for product development of the company said, "CSFB is a technology devised to allow Voice and SMS services to travel over LTE (packet-based all-IP) networks, which cannot normally handle circuit switched services. So, when a LTE device is used to place a voice call or send SMS, the device "falls back" to the 3G or 2G network to complete the call or to deliver the SMS. During such a call scenario, the UE changes its radio access technology from LTE to a 2G/3G technology that supports circuit-switched services. A new interface (called SGs) between the MME and the MSC is required."
He added, "The SGs Application Part (SGsAP) protocol messages are used on the SGs interface between the Mobility Management Entity (MME) in the Evolved Packet System (EPS) and the Visitor Location Register (VLR), to allow location management co-ordination and to relay certain messages related to GSM circuit switched services over the EPS system. The basis for the interworking between a VLR and an MME is the existence of a SGs association between the entities per UE. The SGs association is only applicable to UEs with CS Fallback capability activated."
Mr. Ramalingam further explained, "GL's MAPS™ SGs Emulator is designed to realize the CS fallback function for Voice and SMS delivery via the Circuit Switched (CS) core network using SGs interface between the MME in the EPS and the VLR, as defined in 3GPP TS 29.118 specifications (SGsAP) SGs interface."
He added, "The MAPS™ SGs Emulator implements the following SGsAP procedures when associations between an MME and a VLR are established: Paging for Non-EPS Services, Location Update for Non-EPS Services, Non-EPS Alert, Explicit IMSI Detach from EPS Services, Explicit IMSI Detach from Non-EPS Services, Implicit IMSI Detach from Non-EPS services, VLR Failure, MME Failure, MM Information, Tunnelling of NAS Messages, Mobile Terminating and Mobile Originating SMS Services."
About GL Communications Inc.,
GL Communications Inc, is a global provider of test and measurement solutions and has over the years worked with major telecom equipment vendors, service providers, and system integrators to meet the testing requirements arising at various stages of telecom products development life cycle.
GL offers a broad set of test solutions that help perform all types of testing on networks, from initial system design, to fine-tuning, troubleshooting, live deployment, and monitoring. The products are widely used to verify and ensure 'quality and reliability' of Wireless (4G LTE, 3G, 2G), SONET/SDH, IP, TDM, and PSTN networks.
GL core product development is backed by a strong team of R&D experts to match evolving market and technical challenges in a most cost-effective and innovative way.
Contact:
Shelley Sharma
Phone: 301-670-4784
E-mail: info@gl.com
More from Sensors, Monitors & Transducers