Gas and Chemical Sensors / Detectors
SGPC3 from Sensirion is an Ultra-Lower Power Gas Sensor
Press Release Summary: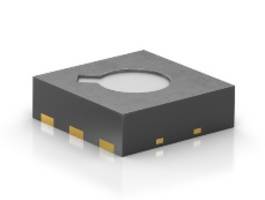 SGPC3 senses indoor air quality using a current of 0.07 mA or lesser. The system features a multi-pixel platform integrated into a DFN package measuring 2.45 x 2.45 x 0.9 mm³. It features an I2C interface and has a battery life of several years. MOXSens® Technology makes SGPC3 robust, stable, and accurate. Application notes and example code support evaluation and testing. Output signal of air quality is fully calibrated and humidity-compensated.
---
Original Press Release:
Air Quality Sensor for Battery-Driven Applications
Sensirion, the expert in environmental sensing, now offers the ultra-lower power gas sensor SGPC3. The SGPC3 makes indoor air quality sensing available for mobile and battery-driven applications. With an average supply current of less than 0.07 mA the SGPC3 is able to provide indoor air quality measurements with several years of battery lifetime. Based on Sensirion's SGP multi-pixel platform the SGPC3 offers a complete gas sensor system integrated into a very small 2.45 x 2.45 x 0.9 mm³ DFN package featuring I2C interface and a fully calibrated and humidity-compensated air quality output signal.
Sensirion's MOXSens® Technology provides the SGPC3 with an unmatched robustness against contamination by siloxanes resulting in outstanding long-term stability and accuracy. The combination of ultra-low power consumption and long-term stability makes the SGPC3 the perfect choice for indoor air quality monitoring in mobile and battery-driven smart home applications. Evaluation and testing is supported by application notes and example code; the SGP evaluation kits are also available through Sensirion's distribution network.
Visit Sensirion's website to see where you can order the SGPC3 gas sensor or to learn more about its specifications and features: http://www.sensirion.com/sgp.
Discover more about the most relevant environmental parameters and Sensirion's other innovative environmental sensor solutions at http://www.sensirion.com/environmental-sensing.
About Sensirion – Experts for Environmental and Flow Sensor Solutions
Sensirion AG, headquartered in Staefa, Switzerland, is a leading manufacturer of digital microsensors and systems. The product range includes gas and liquid flow sensors, differential pressure sensors and environmental sensors for the measurement of humidity and temperature, volatile organic compounds (VOC), carbon dioxide (CO₂) and particulate matter (PM2.5). An international network with sales offices in the US, Europe, China, Taiwan, Japan and Korea supplies international customers with standard and custom sensor system solutions for a vast range of applications. Sensirion sensors can commonly be found in the medical, industrial and automotive sectors, analytical instruments, consumer goods and HVAC products.
One of the hallmark features of Sensirion products is the use of its patented CMOSens® Technology, which permits intelligent system integration of the sensor element, logic, calibration data and a digital interface on a single chip. Sensirion's credentials as a reliable supplier are underscored by its loyal customers, quality reputation (ISO/TS 16949) and top customer pedigree.
Contact: www.sensirion.com, info@sensirion.com, Tel. +41 44 306 40 00, Fax +41 44 306 40 30
More from Communication Systems & Equipment