SGPAT10xx-105 Media Converters are equipped with active link pass through.
Press Release Summary: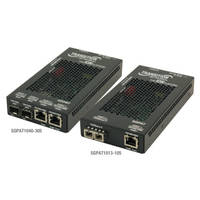 Featuring overcurrent, under-current and fault protection, SGPAT10xx-105 Gigabit Ethernet Media Converters are available in 2-port, 3-port, and 4-port versions with PD signature sensing and power monitoring features. Suitable for connecting multiple remote PDs and creating workgroup of one or two PoE+ devices, converters combine data received over a fiber-optic link with 56VDC input power. Units use auto power reset option for re-setting power to end PDs.
---
Original Press Release:
Transition Networks Announces New Enterprise-Class Multi-Port Gigabit Ethernet PoE+ Family of Media Converters
New Gigabit Ethernet Media Converters Includes Unique Active Link Pass Through and Auto Power Reset Features Available in 2-Port, 3-Port, and 4-Port Versions
Transition Networks, Inc., a leading provider of innovative, high-value, data network integration solutions, today announced its first family of Enterprise-class multi-port Gigabit Ethernet Power-over-Ethernet Plus (PoE+) media converters. The SGPAT10xx-105 10/100/1000Base-T to 1000Base-X Gigabit Ethernet media conversion family easily and affordably facilitates the connection between different types of network cabling, while also injecting PoE+ power through the copper RJ-45 port, thereby eliminating the need to run power to the remote device. In addition, the Active Link Pass Through (ALPT) and Auto Power Reset (APR) features make it quick and simple for network administrators to manage link failures and power resets.
The cost-effective media converters can be used in a variety of applications ranging from connecting one or multiple remote power devices (PD) (such as cameras and Wi-Fi access points) over fiber or redundant fiber; creating a small remote workgroup of one or two PoE+ devices; connecting multiple remote systems to a single fiber switch connection using daisy chaining; or using one device as two individual media converters.
Because the media converters are power sourcing equipment devices, they combine data received over a fiber-optic link with 56VDC input power to provide power and data to a PD over twisted pair cabling while complying with the IEEE 802.3at PoE+ standard, which is also backwards compatible with the IEEE 802.3af PoE standard.
The media converter family is available in 2-port, 3-port, and 4-port versions and includes PD signature sensing and power monitoring features. The 2-port device features 10/100/1000 copper-to-fiber media conversion with IEEE 802.3at PoE+ on the copper port. The 3-port device features one RJ-45 PoE+ port and two open SFP slots, with the ability to be configured as a 3-port switch or as a 2-port media converter with redundant fiber links. The 4-port device features two RJ-45 PoE+ ports and two open SFP slots and can also be configured as a 4-port switch with or without redundant fiber or as two independent PoE+ media converters.
"The new SGPAT media converters add a significant amount of flexibility to extend network connectivity to remote systems like Wi-Fi access points, surveillance cameras and even to small workgroups," said Curt Carlson, Product Manager with Transition Networks. "These products are really the templates for next-generation media converters that need to excel at physical layer PoE+ connectivity but also have some network intelligence – like Layer 2 switching – for added convenience and flexibility."
The converters are designed for table top installations, but also support options for mounting on a wall or DIN Rail. They ship with an external AC/DC power supply and country-specific power cord. Other features include over-current protection, under-current protection, and fault protection input. Active Link Pass Through (ALPT) is an automatically activated version of Link Pass Through (LPT) that allows the converter to detect the loss of receive (Rx) signals on either the fiber or copper port and propagate the failure to the end devices for network management alarms, preventing the media converter from isolating those link failures. During an LPT event, the Auto Power Reset (APR) feature will re-set the power to the end PD, ensuring it is ready to go when the LPT event is corrected.
The SGPAT10xx-105 is currently in customer evaluations and will be widely available in June 2017. For more information, visit https://www.transition.com/products/media-converters/sgpat10xx-105/.
About Transition Networks, Inc.
Transition Networks, Inc. is an industry leader with over 25 years of experience designing data network integration products that deliver the bandwidth, distance and security demanded by today's networks while future proofing for tomorrow. Offering support for multiple protocols, any interface, and a multitude of hardware platforms, including Hardened Ethernet, Carrier Ethernet, CWDM, 1G/10G Ethernet, SFPs, PoE and PoE+, Transition Networks gives you the power to deliver and manage traffic reliably over fiber in any data network – in any application – in any environment. Based in Minneapolis, Transition Networks distributes hardware-based connectivity solutions exclusively through a network of resellers in 50 countries. Transition Networks is a Communications Systems Inc. company (NASDAQ: JCS). For more information, visit us at www.transition.com.
Contact:
Stacy May
Transition Networks
(952) 996-1582
More from HVAC