SFP Connector System suits WiMax and LTE FTTA applications.
Press Release Summary: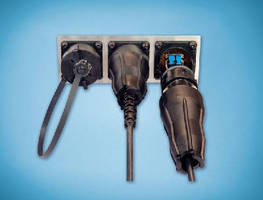 Featuring waterproof, dustproof, and corrosion-resistant design with metal die cast bulkhead, FullAXS provides SFP connection between remote radio and base station for telecommunications applications. Unit offers bayonet locking and provides positive mechanical feedback to inform operator when connector is fully mated. Providing duplex LC interface for mating with all LC duplex SFP transceivers, connector can be designed for single mode or multimode optical transmission applications.
---
Original Press Release:

TE Connectivity's Latest Connector Meets Requirements of Next-Gen Long Term Evolution (LTE) Fiber to the Antenna (FTTA) Designs



-- New connector accommodates broadest range of SFP transceivers in the market --

HARRISBURG, Pa. - To meet the requirements of next-generation WiMax and Long Term Evolution (LTE) Fiber To The Antenna (FTTA) connectivity designs for rugged outdoor use, TE Connectivity (TE) has released the FullAXS connector system that provides the SFP connection between the remote radio and base station for telecommunications applications. This new product offering accommodates the broadest range of SFP transceivers in the market, allowing end-users to select the transceiver that meets their specific system requirements.

Rugged cable assemblies used in WiMax and LTE FTTA applications establish their direct connection by plugging directly into optical transceivers through a bulkhead. Such connections require a connector that can accommodate a large tolerance in Z-direction. The TE FullAXS connector system meets this requirement by allowing for a large Z-direction tolerance while also offering the benefit of one-hand installation of the connector shell.

With this new product offering, users can also conveniently remove and replace transceivers through a cutout in the bulkhead that completely eliminates the need to open the entire remote radio box and expose its contents to hazardous weather conditions.

For the optical connection, the connector system includes an industry-standard duplex LC interface for fast mating with all LC duplex SFP transceivers. The FullAXS connector can be designed for either single mode or multimode optical transmission applications.

Designed to offer a versatile platform, the new product has the capacity to expand to RJ45 and power connectors and is available in a field-installable version with splice to suit any cable. Additional product features/benefits of the system include:

o Positive mechanical feedback to inform the operator when the connector is fully mated

o No cable buckling during or after installation

o Robust bayonet locking for easy, fast and secure mating

o A water-proof, dust-proof and corrosion-resistant design that utilizes metal die cast bulkhead

o Cost savings through the elimination of fiber management in the radio unit

For more information on TE's new FullAXS connector system for next-generation WiMax and LTE FTTA applications, visit: www.te.com/products/FullAXS or contact the TE Product Information Center at 1-800-522-6752.

About TE Connectivity

TE Connectivity is a global, $12.1 billion company that designs and manufactures over 500,000 products that connect and protect the flow of power and data inside the products that touch every aspect of our lives. Our nearly 100,000 employees partner with customers in virtually every industry-from consumer electronics, energy and healthcare, to automotive, aerospace and communication networks-enabling smarter, faster, better technologies to connect products to possibilities. More information on TE Connectivity can be found at http://www.te.com/.

FullAXS, TE Connectivity, TE connectivity (logo) and TE (logo) are trademarks. Other logos, product and/or Company names might be trademarks of their respective owners.

www.te.com

More from Packaging Products & Equipment