SFF RFID Tag supports enhanced garment classification.
Press Release Summary: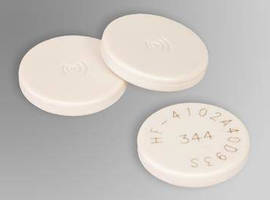 Designed for environmental conditions found in laundry management industry, 0.63 in. LAUNDRY TAG accelerates inventory processes for hotels, hospitals, and other institutions. PPS housing withstands water immersion, temperatures to 200°C, pressure, and chemicals. With anti-collision feature, tag can be read even when many tagged garments are stacked together tightly. Features include read distance of up to 70 mm within HF frequency band and compliance with all relevant industry standards.
---
Original Press Release:

SMARTRAC Introduces Small LAUNDRY TAG with Big Performance Advantages



SMARTRAC LAUNDRY TAG (Amsterdam (The Netherlands)) — RFID technology leader SMARTRAC has launched its new LAUNDRY TAG at the CARTES SECURE CONNEXIONS 2014 tradeshow in Paris. Designed for the rough environmental conditions found in the laundry management industry, this new thin RFID tag (Ø16.1mm / 0.63") supports enhanced garment classification, and can contribute to efficient water and energy usage.



The size and performance of SMARTRAC's LAUNDRY TAG meet industry requirements to speed up inventory processes for hotels, hospitals and other institutions. Thanks to its sturdy design and robust polyphenylene sulfide (PPS) housing, the new tag withstands water immersion, high temperatures up to 200°C, pressure and chemicals.



Equipped with an anti-collision feature, individual tags can be read even when many tagged garments are stacked together tightly. Its small form factor offers excellent performance and a superior read distance of up to 70mm within the HF frequency band. It can be easily and invisibly sewed into linen sheets, garments and other laundry items.



The tag complies with all relevant industry standards (ISO 18000-3, ISO 15693) and has passed a wide range of strict quality tests for temperature, humidity and pressure resistance, making LAUNDRY TAG a reliable inventory tracking solution for wet environments.



Visit SMARTRAC at CARTES in Paris (4 - 6 November 2014) at booth #4M061.



Karin Fabri

Head of Corporate Communications & Marketing

Tel: +31 (20) 3050-150

E-Mail: media.relations@smartrac-group.com



Christian Achenbach

Corporate Communications Manager

Tel: +49 (711) 656926189

Fax: +49 (711) 65692611

E-Mail: christian.achenbach@smartrac-group.com



About SMARTRAC

SMARTRAC is the leading RFID technology company in the production of both ready-made and customized products and services. SMARTRAC makes products smart and enables businesses to identify, authenticate, track and complement product offerings. The company's portfolio is used in a wide array of applications: access control, animal identification, automated fare collection, automotive, border control, contactless payment, electronic product identification, industry, libraries and media management, laundry, logistics, retail, public transport, and many more. Leveraging its global R&D, production and sales network, SMARTRAC's solutions combine physical products with digitally based services to empower the ecosystem of connected things. SMARTRAC has its registered headquarters in Amsterdam, the Netherlands. For more information, visit www.smartrac-group.com, follow us on www.twitter.com/SMARTRAC_NV or click here to sign up for our quarterly newsletter

More from Electrical Equipment & Systems