SFF M.2 and mSATA SSDs target mobile computing devices.
Press Release Summary: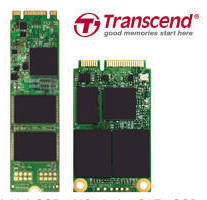 Equipped with SATA III 6 Gbps interface and DDR3 DRAM cache, both N8S750 M.2 SSD and MSA340 mSATA SSD address size limitations and performance requirements of portable devices. While 80.0 x 22.0 x 3.5 mm N8S750 is comprised of MLC NAND Flash chips and offers respective read and write transfer speeds up to 520 and 330 Mbps, 50.8 x 29.85 x 4.0 mm MSA340 offers respective read and write transfer speeds up to 520 and 280 Mbps. Both SSDs fully support SATA DevSleep and ISRT.
---
Original Press Release:

Transcend Releases Small Form Factor M.2 and mSATA SSDs for Mobile Computing Devices



Transcend Information, Inc. (Transcend ), a leading manufacturer of industrial-grade products, today announced the release of its SATA III 6Gb/s N8S750 M.2 and MSA340 mSATA solid state drives (SSD). Featuring ultra compact dimensions and the next generation SATA III 6Gb/s interface, Transcend's N8S750 and MSA340 SSDs are best suited to address the strict size limitations and high performance needs of today's advanced portable devices.



N8S750 SATA III 6Gb/s M.2 SSD

The N8S750 SSD's space-saving 80mm M.2 form factor (80.0mm x 22.0mm x 3.5mm) is designed to meet future market demands of ultra-thin and light mobile devices that require an SSD, including Ultrabooks, notebooks, tablets, portable gaming systems, and smartphones. It features the latest SATA III 6Gb/s specification, DDR3 DRAM cache, and is comprised of high-quality MLC NAND Flash chips. With exceptional transfer speeds of up to 520MB/s read and 330MB/s write, the N8S750 easily handles everyday computing tasks as well as demanding multimedia applications.



MSA340 SATA III 6Gb/s mSATA SSD

Transcend's MSA340 mSATA SSD is 78% smaller than a standard 2.5" SSD and measures a mere 50.8mm x 29.85mm x 4.0mm. As a result, manufacturers can benefit from greater design flexibility when developing space-restricted embedded applications such as tablets, smartphones, Ultrabooks, eBook readers, navigation systems, set-top boxes, hand held scanners, mini PCs, and slim servers. The MLC NAND Flash MSA340 supports the latest SATA III 6Gb/s specification, boasts high speed DDR3 DRAM cache, and is built around a powerful controller to deliver blazing fast transfer speeds of up to 520MB/s read and 280MB/s write, and long-term reliability.



DevSleep and ISRT

The N8S750 M.2 and MSA340 mSATA SSDs offer full support of SATA Device Sleep Mode (DevSleep) and Intel Smart Response Technology (ISRT). Portable computer users often make use of low power states such as standby to save time waiting for the operating system to boot back up. However, this comes at the expense of battery life. DevSleep allows compatible mobile devices to completely power off the SATA interface when not in use while maintaining a fast response time of less than 100ms (0.1 second), offering instant-on capabilities akin to a smartphone. With ISRT, users can configure their computer system with an SSD used as cache memory between the hard disk drive and system memory. This provides the advantage of having a hard disk drive for maximum storage capacity while delivering an SSD-like overall system performance experience.



Continued Reliable Performance

Despite their extra-small dimensions, the N8S750 and MSA340 come equipped with advanced features such as TRIM and NCQ support, built-in ECC and wear leveling, intelligent block management, support for enhanced S.M.A.R.T. commands, and excellent shock resistance; providing exceptional long-term reliability and data protection.



Transcend's SATA III 6Gb/s N8S750 M.2 SSD is available in 32GB, 64GB and 128GB capacities while the SATA III 6Gb/s MSA340 mSATA SSD is available in 32GB, 64GB, 128GB, and 256GB capacities.



Transcend is a globally recognized leader in the manufacture of storage, multimedia and industrial products. Established in Taiwan in 1988, Transcend offers a full line of standard and proprietary memory modules, flash cards, USB flash drives, portable hard drives, solid-state drives, digital music players, card readers, multimedia products and industrial products. Transcend has established offices in the United States, the United Kingdom, Germany, The Netherlands, Japan, Korea, China and Hong Kong. As a customer-focused company, Transcend has the ability to quickly respond to the market's changing needs. For more information, please visit www.transcend-info.com.

More from Software