Seward Stomacher® 80 MicroBiomaster from Brinkmann Instruments, Inc.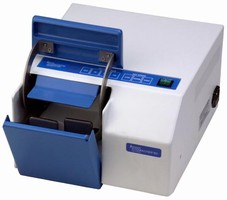 Westbury, NY, June 2008...
Brinkmann Instruments, Inc. proudly announces that the smallest blender on the market has now gone micro! Seward Stomacher 80 MicroBiomaster processes 250 µl to 80 ml samples with continuous adjustment of paddle speed, pressure, even processing time-right on the door panel. This unique, patented feature is particularly useful when processing tissue and other samples without diluents and/or solvents. The control mechanism may also be purchased separately to upgrade any existing Stomacher 80 Biomasters in the laboratory.

For more information on products and services available through Brinkmann, go to www.brinkmann.com.

Brinkmann® is a registered trademark of Brinkmann Instruments, Inc. Seward® and Stomacher® are registered trademarks of Seward Medical Limited.

More from Communication Systems & Equipment