Severn Trent Services Ultraviolet Disinfection System Receives Validation Test Certification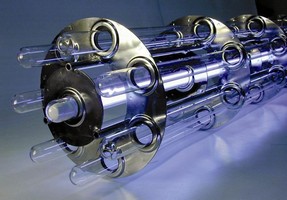 Testing on company's UltraDynamics® 8102-HO-200 UV system was conducted by HydroQual, Inc., and complies with the EPA's Ultraviolet Disinfection Guidance Manual.

FORT WASHINGTON, Pa. - July 11, 2007 - Severn Trent Services' UltraDynamics® 8102-HO-200 ultraviolet (UV) disinfection system has received validation test certification that conforms to the protocols prescribed by the U.S. EPA's Ultraviolet Disinfection Guidance Manual (UVDGM). The UVDGM provides technical guidance on the application of ultraviolet light for the disinfection of drinking water by public water systems.

The 8102-HO-200 UV system provides an ultraviolet dose of 30,000 to 40,000 micro-watt seconds per square centimeter at a wavelength of 254nm ultraviolet energy for the deactivation of microorganisms. After validation testing, the .8 million gallon per day 8102-HO-200 UV system was installed at the Leslie Water Treatment Plant, Northeast, Maryland. It is expected to be fully operational later this year.

UV light is proven to be an effective method for inactivating waterborne pathogens and viruses, including Giardia Lambia cysts and Cryptosporidium Parvum oocysts. Moreover, UV does not pose the handling safety concerns of traditional disinfectants such as chlorine.

The test plan for the validation was written by HydroQual, Inc. which also conducted all testing and prepared the final validation report.

About Severn Trent Services
Severn Trent Services (www.severntrentservices.com), with global headquarters in Fort Washington, Pa., is a leading supplier of water and wastewater treatment solutions. The company's broad range of products and services is concentrated around disinfection, instrumentation and filtration technologies, contract operating services and state-of-the-art residential metering products and services. Our analytical services group is the United Kingdom's leading environmental testing organization, and our international management services business provides support in all aspects of water and wastewater utility operational development and business transformation. Severn Trent Services is a member of the Severn Trent Plc (London: SVT.L) group of companies. Severn Trent is a FTSE 100 company.


More from Electronic Components & Devices