Set Top Box targets automotive market.
Press Release Summary: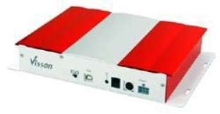 Featuring dual diversity modulator/tuner, Model VC3300T DVB-T Digital TV Receiver is suited for driving conditions up to 130-150 km/hr. Unit enables motorists to watch digital TV while simultaneously utilizing GPS navigation system. It offers 47-860 MHz frequency range for VHF/UHF, OFDM demodulation 2K/8K FFT for SFN/MFN, multi-language support with Unicode font, and in-the-field air downloader. Anti-shock, anti-violation, and car-break video-shutoff functions are provided.
---
Original Press Release:

Visson's New Enhanced VC3300T DVB+Navi Set-top Box Yet Another Milestone in Their Quest for Digital Excellence...


Car+Sound, Sinsheim (Germany) - April 8, 2005 - James Wu, CEO for Visson Technologies, Inc., today announced the release of their new enhanced VC3300T DVB-T digital TV Receiver for automotive markets. "With our enhanced VC3300T set-top box we added a GPS navigation component, and we are convinced that this combination digital TV will set a new trend in car entertainment", Wu stated at the Car+Sound show today. The VC3300T standard model was released at the recent CeBIT show in Hannover.

"We are targeting niche automotive markets with our VC3300T," added Sherry Tsai, Vice-President of Sales & Marketing for Visson. "One of our VC3300T's strongest selling points is its ability to provide exceptional viewing quality at high driving speeds, and we are positively convinced that this factor, together with our navigation component, will distinguish our product from the mass DVB-T mobile market," Tsai further added.

A demo of the VC3300T Mobile DVB-T+Navi solution can be viewed at the Car+Sound Show in Sinsheim, Germany (April 7-10, 2005), at Hall 6, Booth #6702. The VC3300T's dual diversity modulator/tuner makes it ideally suited for high-speed driving conditions up to 130-150km/hour. It offers standard DVB-T functions, GPS navigation, Tele Text & EPG functions, and is fitted with an external NTSC/PAL switch. Visson's DTV receivers will also feature at Computex Taipei in June 2005.

Anti-Doppler compensation
The VC3300T provides Anti-Doppler compensation and diversity reception. In a mobile environment there is a substantial difference between single and diversity reception, and diversity reception dramatically increases the correctable maximum Doppler frequency, improves the reception quality and coverage area, and provides substantial gain on Carrier to Noise ratio(C/N).

DVB-T & GPS Navigation System
The VC3300T offers the ultimate in-car entertainment experience, enabling motorists to watch digital TV and simultaneously utilize a navigation system along their journey. It benefits motorists from a road-safety and convenience point of view, by providing the best routes to destinations and pointing out obstacles.

In addition to its Dual-RF Diversity Reception of Digital Terrestrial TV (DVB-T), the VC3300T's features include a 47-860 MHz frequency range for VHF/UHF, OFDM Demodulation 2K/8K FFT for SFN/MFN, multi-language support with Unicode font, in-the-field air downloader, and a user-friendly GUI. The VC3300T is fully compliant with ITU DVB & Nordig II standards, includes anti-shock, anti-violation and car-break video-shutoff functions, and comes in a compact design (A5 / 1.3kg).

About Visson Technologies
Visson Technologies, Inc., a member of the VIA Technologies Group, specializes in the design and manufacturing of digital TV and multimedia consumer products, with its main focus on digital television receivers for home entertainment, mobile and handheld products. Our aim is to design digital TV receivers compliant with global digital TV standards, including DVB-T, DVB-H, ATSC and ISDB. Further to its digital TV solutions, Visson diversifies across a wide spectrum of cutting edge technologies, including navigation systems, car PC's and smart TV's, and integrating these with their range of DTV receivers.

For more information contact:
Pieter du Toit, Marketing Manager
Visson Technologies, Inc.
2F, 529-1 Chung-Cheng Rd., Hsin-Tien, Taipei 231, Taiwan
+886 (0)2 2218-8010 ext. 313
+886 (0)2 2218-8020 (Fax)
PieterduToit@via.com.tw
http://visson.com.tw

Tony Lee, Sales Manager
Visson Technologies, Inc.
+886 (0)2 2218-8010 ext. 303
TonylLee@via.com.tw

More from Software