Set-Top Box Chip provides MPEG decoder for SD TV.
Press Release Summary: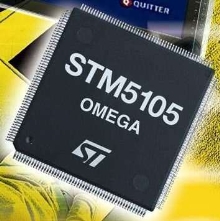 Built using 0.13 micron technology, STM5105 offers unified, single-device platform for various set-top boxes in worldwide Free-to-Air satellite, cable, and terrestrial services. It integrates common functional blocks, such as audio DACs and VCXO, and supports all features of STi5518. Decoder has integrated 2D graphics engine, supported by blitter-based display; DVB descramblers, DVB-CI, and support for single tuner DVR. Clock speed of ST20 32-bit RISC CPU core is 200 MHz.
---
Original Press Release:

New Set-Top Box Chip from STMicroelectronics Will Cut Costs for Mainstream STB Manufacturers


Low-cost MPEG decoder upgrades the widely-used STi5518, providing increased integration, higher performance and new features in a unified multi-market platform

Geneva, March 22, 2005 - STMicroelectronics (NYSE: STM), the world's leading supplier of silicon chips for set-top boxes (STBs)1, has announced a new MPEG decoder for standard definition TV in its OMEGA family of STB solutions - the STM5105 - which will significantly reduce costs for STB manufacturers while at the same time adding new functionality. With its further integration of common functional blocks, including audio DACs (Digital to Analog Converters) and the VCXO (Voltage Controlled Crystal Oscillator), manufacturers using the new device will be able to cut their total component cost and simplify board design and assembly.

The STM5105 is designed to address the requirements of the mainstream STB market, where it will provide a unified, single-device platform for a range of set-top boxes from basic low cost products up to MHP (Multimedia Home Platform) applications, for worldwide Free-to-Air satellite, cable and terrestrial services.

ST currently supports the high volume STB market with the STi5518, which is used in a very high proportion of set-top boxes worldwide, and with the STi5516. Analysis of market share2 shows that ST provided 77% of all STB MPEG-2 chips, with shipments more than doubling those in 2003. This new chip offers a smooth migration path from designs based on the STi5518 and other earlier generation OMEGA devices thanks to ST's own STAPI driver support and full reference software; STAPI is ST's fully supported and documented programming interface, developed as a stable base on which to build applications, which allows software to be ported easily across product families. New designs are strongly supported by ST's industry-leading development toolkit and by a broad range of third party products.

The decoder supports all of the features of the STi5518 and adds new capabilities and higher performance. The clock speed of the embedded ST20 32-bit RISC CPU core - the dominant CPU in the STB market - is more than doubled to 200MHz, providing increased power for advanced applications and enabling improved compatibility with mainstream set-top box middleware.

Overall performance is further increased by an integrated 2D graphics engine, which relieves the CPU of on screen display (OSD) overhead and provides an enhanced experience for the TV viewer. This graphics sub-system is supported by an advanced 'blitter' based display. Additional features provide the opportunity to extend the use of the chip to both alternative and more advanced platforms; features include DVB (Digital Video Broadcasting) descramblers, a low cost DVB-CI (Common Interface) to link it to a removable security module, and support for a single tuner DVR (Digital Video Recorder) for high quality time-shifting.

"The STM5105 sets a new industry standard for mass market free-to-air set-top boxes, building on the outstanding success of the STi5518 over the last four years," said Armando Caltabiano, General Manager for ST's Retail Multimedia and Satellite Division. "It will bring further cost reductions for manufacturers while giving viewers the advanced features they now expect as standard, even in lower cost boxes."

Like the other OMEGA devices, the STM5105 integrates a transport de-multiplex block, the ST20 32-bit CPU, an audio/video MPEG-2 decoder, a digital video encoder and the enhanced display and graphics features. DVB descramblers in the transport de-multiplex block and Macrovision copy protection allow it to be used in basic payTV services.

The STM5105 is built using ST's state-of-the-art 0.13 micron technology, and uses the 216-pins LQFP package. Samples are available now, with volume production expected early in Q2 2005. Pricing is $7 in 100k quantities.

1 InStat/MDR: "MPEG Video IC Market: Larger than Ever" - June 2003 (Report number IN030573MI)

2 InStat: "MPEG Video IC Market to Grow Every Year Through 2008" - July 2004

About STMicroelectronics

STMicroelectronics is a global leader in developing and delivering semiconductor solutions across the spectrum of microelectronics applications. An unrivalled combination of silicon and system expertise, manufacturing strength, Intellectual Property (IP) portfolio and strategic partners positions the Company at the forefront of System-on-Chip (SoC) technology and its products play a key role in enabling today's convergence markets. The Company's shares are traded on the New York Stock Exchange, on Euronext Paris and on the Milan Stock Exchange. In 2004, the Company's net revenues were $8.76 billion and net earnings were $601 million. Further information on ST can be found at www.st.com.

STMicroelectronics, Inc.
Lexington Corporate Center
10 Maguire Road
Bldg. 1, 3rd Floor
Lexington, MA 02421
(781) 861 2650
www.st.com

More from Fluid & Gas Flow Equipment