ServoWeld® Actuators are equipped with re-lubrication port.
Press Release Summary: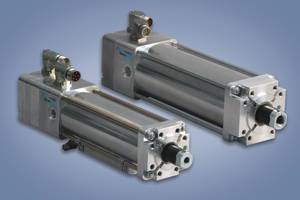 Designed for resistance spot welding applications, ServoWeld® Actuators are available in ServoWeld Advanced and ServoWeld Base models in size 3 and size 4. Delivering up to 4,000 lbf/17.8 kN actuator force, units comes with 230Vac and 460Vac motor voltages, 5mm and 10mm roller screw thread pitches, multiple options for rod ends, feedback and connectors.
---
Original Press Release:
New ServoWeld® Actuators from Tolomatic Offer Lighter Weight and Superior Performance in Automotive Resistance Spot Welding
Cost-effective actuator design provides the lowest lifetime cost and highest quality welds; broad product family offers many choices to optimize weight and performance.
New ServoWeld® actuators from Tolomatic are redesigned for higher performance and are lighter weight compared to other screw technologies. Featuring roller screws designed and manufactured by Tolomatic, the ServoWeld actuators are made especially for resistance spot welding (RSW) applications in the automotive industry. The ServoWeld actuators deliver 20 million welds or more, much longer than competing technologies such as ball screws and inverted roller screw actuators, according to Tolomatic.
The ServoWeld Advanced (SWA) actuator is based on the highest level roller screw technology available to deliver the maximum number of welds. The ServoWeld Base (SWB) actuator is built on an alternate roller screw design to provide longer life than typical ball screw and inverted roller screw technology, but at a more economical price than the SWA actuator.
The SWA and SWB ServoWeld models are available in two sizes: a smaller size 3 for lighter-duty weld schedules; and a size 4 for heavier-duty applications. Both sizes are available in a variety of roller screw thread pitches (5mm and 10mm), motor voltages (230Vac & 460Vac) and multiple options for rod ends, feedback & connectors, and water cooling. These models can produce actuator forces at the rod up to 4,000 lbf/17.8 kN, lasting 20+ million welds and holding +- 3% force repeatability over the life of the actuator. Each model comes equipped as standard with a re-lubrication port to easily service the actuator without disassembly from the weld gun to maximize its life.
Tolomatic has extensive experience in the automotive resistance spot welding industry with its predecessor product, the GSWA ServoWeld actuator. Because of this experience, the ServoWeld SWA and SWB actuators have motor files for seamless robot integration with all the major suppliers including ABB, Comau, Fanuc, Kawasaki, Kuka, Motoman, Nachi and many more.
"We developed the ServoWeld SWA and SWB actuators based on nearly 15 years of experience in the industry, and we understand what it takes to make actuators and roller screws for resistance spot welding applications," said Bill Graber, ServoWeld global business director, Tolomatic. "The result of our efforts is the broadest line of 7th axis RSW actuator products, which allow our customers to select the right ServoWeld product for their application."
About Tolomatic
For more than 60 years, Tolomatic has been a leading supplier of electric linear actuators, pneumatic actuators and power transmission products for factory automation. Its extensive product line also includes servo-driven high-thrust actuators, servo motors and stepper motors, stepper drives and configured linear-motion systems. Tolomatic's electric linear and pneumatic actuators are used in a variety of industries, including the packaging, material handling, medical, food processing, automotive, semiconductor and general automation industries.
For more information, contact
Tolomatic,
3800 County Road 116,
Hamel, MN 55340.
Phone: 763-478-8000
800-328-2174.
Website: www.tolomatic.com.
Contact This Company Download Spec Sheet
More from Mechanical Power Transmission