Servo Valve provides position, velocity, and pressure control.
Press Release Summary: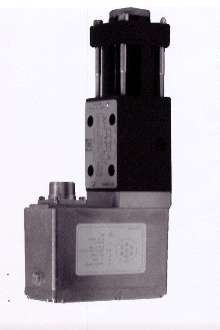 Duplomatic DXJ3 Series servo-proportional valve features linear force motor direct driving zero overlap spool. NFPA standard D03 footprint offers integration into standard manifold systems, and neutral fail safe position provides simple control. Operating up to 5000 psi with flows to 10 gpm, DXJ3 incorporates on board electronics that operate on ±10 V or 4/20 mA control signal. Maximum response time is 12 ms with <0.2% hysteresis through closed loop LVDT.
---
Original Press Release:
Duplomatic DXJ3 Series Servo Valves

Universal Hydraulics International Ltd. announces the availability of the Duplomatic DXJ3 Series servo-proportional valve.

A brand new design developed in association with Moog in Germany, the valve offers high dynamic performance with a linear force motor direct driving a zero overlap spool.

The NFPA standard D03 footprint offers easy integration into standard manifold systems and a neutral fail safe position provides simple control systems.

Operating up to 5000 psi with flows to 10 GPM, the DXJ3 incorporates on board electronics that operate on either a +/-10V or 4/20 mA control signal.

A maximum response time of 12ms with a <0.2% hysteresis through a closed loop LVDT make the DXJ3 an ideal valve for position, velocity and pressure control.

The addition of this unit allows DUPLOMATIC to offer hydraulic servo-proportional valves with D03 and D05 standard NFPA footprints to 30GPM and 5000 psi.

For additional information on the DXJ3 Series and all of your Duplomatic hydraulic products visit our continuously updated website: www.uhiltd.com or contact:

Universal Hydraulics International Ltd.

9337 Ravenna Rd., Unit G.

Twinsburg, OH 44087

Ph: 330.405.1800 Fax: 330.405.1801

Email: duplomatic@uhiltd.com
More from Fluid & Gas Flow Equipment