Servo Motor Controllers and Drives
Servo Motor Controller is CANopen enabled.
Press Release Summary: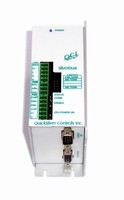 Designed for NEMA 17 and NEMA 23 frame I-Grade servo motors, SilverDust IGC single axis controller comes with serial communications (RS-232, RS-485), CANopen and, 7 I/O, and includes breakouts for power and communications. Other features include 12-48 Vdc input power, built-in voltage clamp/braking resistor, 4 analog inputs, and 32 K non-volatile memory, along with 100:1 inertial miss-match, PVIA(TM) servo loop, electronic gearing/camming, and multiple thread programming.
---
Original Press Release:

Low Cost CANopen Servo Motor Controller



QuickSilver Controls, Inc. announces its lowest cost CANopen servo motor controller, the SilverDust IGC. This single axis controller includes serial communications (RS-232, RS-485), CANopen and 7 I/O. CANopen can be configured for peer-to-peer, master or slave which allows the controllers to share I/O with other CANopen enabled SilverDust controllers or 3rd party CANopen devices (i.e. I/O blocks, encoders,...). The RS-232/RS-485 serial network runs in parallel to CANopen for supervisory control from a host (i.e. PC, PLC, HMI..).

For a multi-axis system, connect several IGCs, make one the master and let the others receive motion commands over CANopen. If more I/O or Ethernet are needed, upgrade the master to one of our more powerful controllers. With the IGC it is easy and inexpensive to create a scalable, multi-axis network.

The IGC is designed to servo QuickSilver's NEMA 17 and NEMA 23 frame I-Grade servo motors and includes breakouts for power and communications. The 7 bi-directional I/O can be broken out using one of our popular basic breakouts (QCI-BO-B, QCI-BO-B1, QCI-BO-B1A) or, if 24V I/O is needed, using the QCI-BO-B52.

At $960 for the IGC controller, cable and 120 oz-in (continuous) motor, the IGC is hard to beat.

Other IGC Features:

o 12-48V DC Input Power
o Built-In Voltage Clamp/
Braking Resistor
o 7 TTL, Bi-Directional I/O
For 24V use QCI-BO-B52
o 4 Analog Inputs
o 32K Non-Volatile Memory
o R2-232/485,CAN
o 100:1 Inertial Miss-Match
o PVIA(TM) Servo Loop
o Point To Point Moves
o Profile Moves
o Electronic Gearing/Camming
o Multiple Thread Programming
o Driver Enable

For more details, see the datasheet QCI-DS016 at www.QuickSilverControls.com.

QuickSilver Controls, Inc.
580 E. Arrow Hwy, # E, San Dimas, CA 91773
888-660-3801 fax: 909-447-7410
www.QuickSilverControls.com