Servo Motion Controllers offer nanometric position control.
Press Release Summary: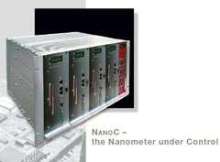 Modular, multi-axis NanoC controllers provide integrated drive system with high-speed motion control, velocity ripple control, along with real-time operation and safety functions. They use high bandwidth control loops up to 50 kHz as well as FFT/Bode analysis. Controllers utilize SinCos or quadrature encoder input with internal encoder multiplier up to x16,384. Option of secondary encoder input for dual loop/master-slave or gantry operation is available.
---
Original Press Release:

Schneeberger Introduces NanoC Line of Motion Controllers


Bedford, MA, September 24, 2004--Schneeberger, Inc. announced the launch of a new line of modular, multi-axis Servo Motion Controllers used for Nanometric position control. With a high performance, multiprocessor architecture, NanoC offers a fully integrated drive system with high speed motion control, outstanding velocity ripple control, Nanometric stability and position control along with real time operation and safety functions.

NanoC uses high bandwidth control loops up to 50khz as well as advanced motion control tools and FFT/Bode analysis. Digital I/O and Limit Switches are utilized and optional analog + digital I/O extensions are available.

The low noise, high bandwidth linear servo amplifier uses a programmable, digital current loop and drives a 3-phase brushless servo motor over a +/- 10 V interface with 5 Amp continuous/10 amp peak current.

NanoC utilizes SinCos or quadrature encoder input with an internal encoder multiplier up to x16384. The option of a secondary encoder input for dual loop/master-slave or gantry operation is available.

NanoC may be purchased alone or as a compliment to Schneeberger's custom line of multi-axis positioning stages. By using a "Systems Approach" to the most demanding linear motion applications, Schneeberger creates a comprehensive solution that ranges from the design, testing and building of hardware, state of the art motion control software and advanced algorithms, to high performance systems that benefit the OEM customer base. Schneeberger also produces the bearings, machines most parts and performs the integration and test of each system.

NanoC Dimensions: Amplifier: H: 262, W: 91, D: 195. Multi-axis Control card: H: 262, W: 61, D: 195. Rack 19" 6HU D: 403mm.

Required communication and software: RS-232 and Ethernet communication to host PC, Graphical user interface for setup and configuration, Labview drivers, Active X/COM, C/C++ Software Library for use with Windows 9x/NT/200/XP and other OS.

Schneeberger Inc., one of four subsidiaries of W. Schneeberger AG, headquartered in Switzerland, markets precision linear motion components and systems for demanding applications. Products include ball and cross-roller bearings, miniature slides and rails, profile guides, automated linear and rotary modules, multi-axis positioning systems, and precision ball screws. Based in Bedford, MA, Schneeberger, Inc sells directly through regional sales offices located throughout the US. For more information, contact Schneeberger at 1-800-854-6333 or visit www.schneeberger.com

More from Electronic Components & Devices