Servo Motor Controllers and Drives
Servo Drives suit military and harsh industry environments.
Press Release Summary: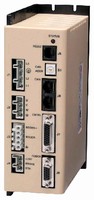 Designed to meet military COTS requirements, XENUS R10 hardened servo drives support stand alone and networked modes and respond to variety of input formats, including step-and-direction commands. Units operate on single-phase or 3-phase 85-264 V supplies and deliver up to 3 kW drive power with peak current from 18-40 A. Housed in shielded enclosure measuring 2.55 x 5.4 x 7.55 in., drives are protected against over-current, over-temperature, and incorrect operating voltages.
---
Original Press Release:

Servo Drive For Military And Harsh Industry Environments



http://copleycontrols.com/motion/downloads/pdf/Xenus-DataSheet.pdf

Canton, MA, September 22, 2007 -Copley has extended the proven XENUS offline servo drive's temperature, humidity, vibration and shock ranges to meet military COTS (Commercial Of The Shelf) requirements, including Mil Standard #810. The hardened drives, designated Series R10, can now be used to control rotary and linear motors/actuators in military applications and extreme industrial environments.

The hardened drives operate in stand alone and networked operating modes, and respond to a variety of input formats, including step-and-direction commands for upgrading from stepper motors to high torque servomotors. Operating modes also include indexing, point-to-point, PVT, PT, position, velocity, and torque control, as well as electronic camming and gearing. The drives are compatible with CANopen, RS422, and RS 485 communications, operate on single phase or three-phase 85 to 264V supplies, and deliver up to 3 kW drive power.

Copley has developed extensive libraries of motion control software (Copley Motion Libraries) and software COM objects to make system development fast and simple. The development of low level code to control a CANopen network of intelligent drives is eliminated. All network housekeeping is taken care of automatically by a few simple commands linked into the user's Visual Basic, Labview or C++ application program.

Drive users can automate otherwise time-consuming system setup and commissioning functions with Copley's CME 2(TM) software. The software provides auto tuning of the amplifier's current loop, and auto phasing of Hall sensors for both rotary and linear motors & actuators. With setup and tuning completed, the software settings are stored in the amplifier's non-volatile flash memory.

Specifications
The R10 drives use the advanced carrier cancellation modulation (CCM) for utmost zero crossing linearity and ultra low ripple current, which occurs at twice the carrier (PWM) frequency. Ripple frequency is 28 kHz. Current loop bandwidth is 2.5 kHz. The amplifier provides 15 kHz current loop update rate (67 µs) and 3 kHz (333 µs) position and velocity loop update rate. R10 drives are available for peak current from 18A to 40A, and operate from 85 - 264VAC single or three-phase line voltages.

Mechanical Design, Protection
R10 drives are housed in shielded enclosures measuring 2.55" high x 5.4" wide x 7.55" long. The drives are protected against over-current, over-temperature, and incorrect operating voltages. They are further protected from short circuits between outputs, from output to ground, against over-current, over-temperature, and against incorrect operating voltages. In addition, protection circuits guard against loss of signal from either the encoder or the motor's Hall sensors. Built-in computation algorithms monitor the I2oT heating effect of load current, enable a motor to run safely at its outer performance envelope.

Applications
In hardening the Xenus family for COTS military, aviation and marine applications, Copley has simultaneously created a drive for extreme industrial environments. R10 drives handle the high temperatures of solar energy collection, oil refinery and steel foundry uses, plus the opposite extremes of arctic satellite tracking, industrial cold rooms, and refrigerated meat packing operations. Model R10 also qualifies for oil rig use, ship-board cargo handling equipment, and off-road vehicles, where resistance to shock and vibration are critical.

Delivery: Stock - 4 weeks ARO.

Contact:
Dean Crumlish, Ext. 266
Copley Controls Corporation
20 Dan Road, Canton, MA 02021
Tel: 781 828-8090 Fax: 781 828-6547
Internet: www.copleycontrols.com
Email: sales@copleycontrols.com
Price (1- 9)$1,753

More from Fluid & Gas Flow Equipment