Servo Motor Controllers and Drives
Servo Controller-Amplifier features miniature design.
Press Release Summary: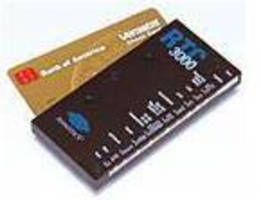 Measuring 3.68 x 1.815 x 0.35 in., Model RTC-3000 can operate virtually any small brushed or brushless DC servo. Stand-alone system includes controller, amplifier, logic power supplies, and program interpreter with 32 k program memory and 32 k data storage. General purpose I/O provides several channels of 10-bit analog input, while AniLink(TM) port links to peripherals such as LCD displays. Up to 120 RTC-3000 systems can be combined on single RS-485 network.
---
Original Press Release:

RTC3000 - Credit Card Sized Servo Controller & Amplifier!



Animatics Corporation, the creator of the SmartMotor(TM), has applied its highly interested and miniaturized motion control technology to a free-standing controller-amplifier called the RTC-3000. Measuring only 3.68x1.815x0.35 inches, the RTC-3000 is about the size of a credit card and will completely operate virtually any small Brushed or Brushless D.C. Servo. It is no longer necessary to use a bulky and expensive full size servo control when operating the many small D.C. servo's sold by such companies as Maxon*, Micro-Mi* and API Portscap*. Apply 24 VDC to the RTC3000 and download a program using the host utility and you have a completely stand-alone system including Controller, Amplifier, Logic Power Supplies and Program Interpreter with 32k of program memory and 32k of data storage. Alternatively, talk interactively between the RTC-3000 and a host or PLC over RS232 or RS-485. It will even milt-task between internal program and host commands.

The RTC-3000 employs the same expansive command set that has allowed SmartMotors to control entire machines. It has inputs for the Encoder, the Motor, the Hall Sensors (if BLDC) as well as general purpose I/O, an additional Encoder Input and the ability to take Step & Direction signals. The general purpose I/O includes several channels of 10 bit analog input. Also, like the SmartMotors, the RTC-3000 has an additional "AniLink(TM)" port that links in a vast array of peripherals such as LCD Displays, Push Wheel banks, Opto-22* racks, etc.. As many as 120 RTC-3000s can be combined on a single RS-485 network. It was designed for multi-axis applications, but because of its size, it can often be located next to each motor, vastly reducing the amount of system cabling and distributing the control and I/O functions throughout the machines.

The innovative drive design inside the RTC-3000 is well suited to run motors with a wide range if inductance, including very low inductance motors that are otherwise difficult to drive. Units are available from stock.

* These names are registered trademarks of their respective company names and brands.