Servo-Controlled Machines induce vibration to test products.
Press Release Summary: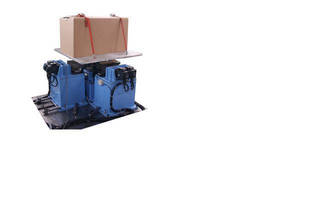 Used for testing effects of vibration on everything from small parts to complete automobiles, Shaker series includes 1- to 3-axis machines with vibration speeds up to 300 Hz and displacements of ±50 mm. Some models are capable of 6-axis movement, and others can target loads up to 300,000 N with torsion torque up to 40,000 Nm. Packaging strength, protection, and durability; product resistance to scratching and damage; and any other kind of vibration damage can be simulated.
---
Original Press Release:

The "Shaker" Series of Multi-Axis, Servo-Controlled, Vibration Inducing Machines



Kokusai, a leading international supplier of vibration measurement equipment, is introducing their latest product. The "Shaker" series of multi-axis, servo-controlled, vibration inducing machines that can "shake" product ranging from very small parts up to complete automobiles. This product line is used for testing the effects of vibration caused during shipment, handling and regular product use. Packaging strength, protection, and durability, product resistance to scratching and damage, and any other kind of vibration damage can be simulated and the final product evaluated. From this evaluation, warranty costs, product reject costs and even shipping insurance costs can be reduced.

The product line ranges from single axis shakers to tri-axis movement. Some models are capable of 6-axis movement which adds pitch, roll, and yaw. Vibration speeds can range up to 300Hz. Displacements of +-50mm (+- 200mm for seismic waveform) are possible on some testers. Some models target loads of up to 300,000N with torsion torque of up to 40,000Nm. The multi-axis machines have one table which eliminates time consuming and expensive multiple changeovers. These Windows controlled machines can run varying programs mimicking the actual transportation or other vibration hazards the customer's product may see during their shipment to and use in the market.

A data logging system can be utilized recording real-world forces from the customer's current transportation methods and routes and feed that information back into the software for real-time simulation. The low inertia servo controlled technology eliminates the problems associated with hydraulics and allows for faster and more exact movements combined with cost savings due to reduced power consumption and environmental concerns associated with elimination of hydraulic oil waste.

The Vertical Impact System utilizes control test waveforms that are applied to the test. Additionally, an ultrahigh vibration line of Electro-Dynamic Vibration machines have a capability of frequencies as high as 3,000Hz.

Kokusai produces a large variety of vibration related equipment including balance and uniformity test equipment for the automotive and tire industries. Other products include test measurement products for motors and other rotating equipment, shaft straighteners, gear checkers and many other products. Kokusai was founded in 1969 and its world headquarters are located in Tokyo, Japan with manufacturing in Japan, China, Korea and the US. More information can be found on Kokusai at www.kokusaiusa.com.

Contact Information:
John Funcheon - Vice-President, General Manager
JohnF@Kokusaiusa.com

More from Test & Measurement