Servo Amp Edge Filter reduces drive cable interference.
Press Release Summary: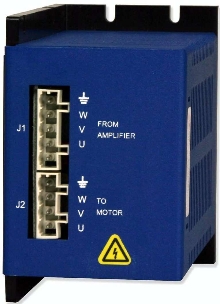 Model XLS-FA-01 prevents motor power cables from coupling electrical interference into nearby sensitive circuits by reducing steepness of pulse edges. Product is suited for use when interference from motor drive cables could compromise other electrical circuits in system. It works with Xenus PWM servo amplifiers, which operate from 50/60 Hz ac power; permit stand-alone, networked, and indexed operation; and are rated to 7 kW output.
---
Original Press Release:
Servo Amplifier's Edge Filter Reduces Drive Cable Interference
Prevents motor power cables from compromising nearby sensitive circuits Canton, MA, March 23, 2005---Copley Controls introduces the Model XLS-FA-01 Edge Filter, designed for use with the firm's Xenus family of PWM servo amplifiers. The filter prevents motor drives cables from coupling electrical interference into nearby sensitive circuits. Equipment builders often run motor power cables in the cable harness that also carries signal and other wiring. Electrical noise carried by motor drive current can be coupled into adjacent cables through cable capacitance and inductance. Modern servo amplifiers deliver motor drive power in the form of fast rise pulses. (See attached graphic). Interference increases with the rise rate or "steepness" of these power pulses. Copley's new Edge Filter provides a tenfold reduction in interference by reducing the steepness of the pulse edges It is possible to minimize cable noise coupling and protect sensitive circuits by using a linear amplifier instead of a PWM type. However, linear amplifiers are big, costly, grossly inefficient, and translate their high inefficiency into excessive heat. A simpler and more economical solution is to retain the PWM amplifier and use an edge filter to attenuate interference. Applications Copley's workhorse Xenus amplifier users can add XLS-FA-01 edge filters when interference from motor drive cables could compromise other electrical circuits in the system. Xenus amplifiers operate directly from 50/60 Hz AC power, permit stand-alone, networked, and indexed operation, and are rated to 7 kW output. Delivery - Contact - Price Delivery: Stock - 4 weeks ARO Contact: Dean Crumlish, Extension 266 Copley Controls Corporation, 20 Dan Road, Canton, MA 02021 Tel: 781 828-8090 oFax: 781 828-1740 Internet: www.copleycontrols.com o email: sales@copleycontrols.com Edge Filter Price: $249 (1 - 9)
More from Non-Industrial Products