Network / Communications Monitors
Service Tool visualizes entire BACnet® system.
Press Release Summary: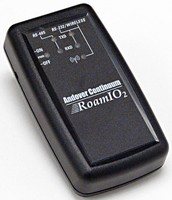 Weighing less than 1 lb, portable Roam IO2 provides wireless field access to controller point information. Compact hardware adapter offers mobility through local connection to field bus or Ethernet network or wireless connection with Bluetooth® adapter. It automatically discovers and edits BACnet devices from third parties as well as TAC Andover Continuum(TM) BACnet and Infinet(TM) controllers on network, providing multiple displays of entire BACnet system.
---
Original Press Release:

TAC Introduces Industry's First BACnet® Service Tool



Portable Roam IO2 Provides Wireless Field Access to Controller Information

BOSTON - May 12, 2006 - TAC, a world leader in building automation, security systems and energy solutions, has introduced the industry's first BACnet service tool, designed to provide easy field access to controller point information. TAC's Roam IO2 Service Tool is a compact hardware adapter with software applications designed to run as a BACnet service tool on a Windows® Pocket PC or laptop. Small enough to clip onto a technician's belt, the tool offers users freedom of mobility through a local connection to a field bus or Ethernet network or a wireless connection with a Bluetooth® adapter. The Roam IO2 automatically discovers and edits BACnet devices from third parties as well as TAC's own Andover Continuum(TM) BACnet and Infinet(TM) lines of controllers.

"The Roam IO2 is the first of its kind: a service tool servicing both Andover Continuum and third-party BACnet Controllers from sensors to drives to controllers," said Rainer Wischinski, Vice President of Product Marketing for TAC. "It is also the first BACnet service tool with Bluetooth wireless communications capabilities. And it does all this while still weighing under a pound."

Using the RoamIO2 Service Tool, technicians can locate all third-party BACnet and Andover Continuum devices on a network. It provides multiple displays of the entire BACnet system, including objects within the device, and detailed views of the BACnet properties of selected objects. Technicians can edit and change values, set descriptions and more.

The Roam IO2's explorer-like tree provides a great visualization of the entire BACnet system, according to Wischinski. "For example, expanding the controller reveals the objects within the device while switching to the details view displays all the BACnet properties and Andover Continuum attributes of the selected object," he said.

With the RoamIO2 you have all the BACnet connectivity you need from MSTP, to Ethernet and even wireless Ethernet. This gives technicians the mobility they need to work efficiently and safely. The RoamIO2 also offers an easily wired controller connection. The hardware comes with an RJ-11 cable and a set of service port adapters to connect the Roam IO2 to the built-in service port on any room sensor or Andover Continuum controller equipped with a service jack.

About TAC

TAC is a leading provider of building automation solutions based on Open Integrated Systems for Building IT. TAC's mission is to provide added value through building environment services for indoor climate, security and use of energy, delivered with advanced technology to end users and property owners throughout the world. With over 80 years of experience in the HVAC, building automation and security arenas, TAC has over 3,700 employees worldwide with partners and branches in 75 countries. TAC's parent company, Schneider Electric, is the world's leading specialist in power, control and building automation, with 85,000 employees worldwide and operations in 130 countries.

Copyright © 2006, TAC, All rights reserved.

For more information, contact:
Jeff Kosiorek
Manager, Corporate Communications
TAC
(978) 975-9671
(978) 319-2315 (mobile)
jeff.kosiorek@tac.com

Keith Hobbs
Michael Burns & Associates, Public Relations
3333 Lee Parkway, Suite 450
Dallas, TX 75219
214-521-8596 Phone
214-521-8599 Fax
Email: khobbs@mbapr.com
Web: www.mbapr.com

More from Electrical Equipment & Systems