Service provides customized harnessing assemblies.
Press Release Summary: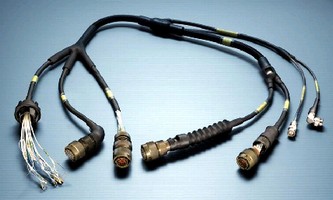 Harness design team works with customers to produce design that meets application requirements for electrical performance, mechanical attributes, sizes, shape, and durability. Integrated harness systems meet range of environmental sealing specifications, and can be designed for long-term fluid immersion and resistance to various fluids including NBC agents. Materials are available for lightweight and small size needs as well as flammability requirements.
---
Original Press Release:

Integrated Harnessing Assemblies for Military, Aerospace and Ruggedized Industrial Applications



HARRISBURG, Pa. - Feb. 22, 2006 - Tyco Electronics has recently upgraded its capability to design and manufacture customized integrated harnessing assemblies for military, aerospace and industrial applications. Integrated harnessing assemblies have traditionally been used in ruggedized military hardware to connect various components and systems together. Tyco Electronics provides turnkey service with integrated harnesses starting with harness design right through harness component specification, manufacturing and testing.

Tyco Electronics integrated harnesses are designed at the company's Raychem facility in Menlo Park, CA. The harness design team works with customers to produce an efficient harness design that meets the application requirements for electrical performance, mechanical attributes, size, shape and durability. Furthermore, the design team leverages Tyco Electronics' complete product line in the harness design. Among the many components the Tyco design team can select from are high performance wire and cable, heat shrinkable molded parts, heat shrinkable tubing, wire and cable markers, connectors, backshell adapters, terminals, splices and many other components.

Tyco Electronics can produce integrated harnesses with customer-provided information like from-to lists or by using HarnWare harness design program outputs. Once designed, fit-check mock-ups are produced, and then one-off first article followed by prototypes and production quantity harnesses.

Integrated harness systems from Tyco Electronics meet a range of environmental sealing specifications and are suitable for a wide range of temperatures. Also, several degrees of flexibility are available. Further, the harnesses can be designed for long-term fluid immersion and resistance to a wide range of fluids including nuclear, biological and chemical (NBC) agents. In addition, harnessing materials are available for lightweight, and small size needs as well as flammability requirements that necessitate low toxicity, flame retardance or self-extinguishing materials.

In addition to its main production facilities in Menlo Park, California and Tijuana, Mexico, Tyco Electronics has additional harness manufacturing facilities in China, Korea, India, New Zealand, the United Kingdom and continental Europe.

For more information on integrated harness assemblies from Tyco Electronics, contact Tyco Electronics' technical support center at 1-800-522-6752 or send an e-mail to newproducts@tycoelectronics.com

About Tyco Electronics
Tyco Electronics, a business segment of Tyco International Ltd., is the world's largest passive electronic components manufacturer; a leader in cutting-edge wireless components, complete power systems, and premise wiring components and systems; and a provider of critical communications systems to the Land Mobile Radio industry. Tyco Electronics provides advanced technology products from over forty well-known and respected brands, including Agastat, Alcoswitch, AMP, AMP NETCONNECT, Buchanan, CII, CoEv, Critchley, Elcon, Elo TouchSystems, M/A-COM, Madison Cable, OEG, Potter & Brumfield, Raychem, Schrack and Simel. For more information, visit www.tycoelectronics.com

HarnWare, Raychem and TYCO are trademarks.
Other trademarks are the property of their respective owners.
<> <>

Paul Lavenberg
Global Communication
Tyco Electronics
717-592-2409 P
717-592-6146 F

Related