Service Kit supports double clutch gear transmissions.
Press Release Summary: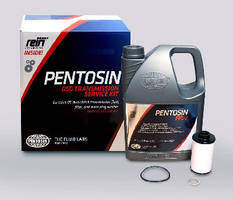 Designed for required 40K mile service call on Audi/Volkswagen double clutch gear transmissions, Pentosin FFL2 Transmission Service Kit includes precise amount of Pentosin FFL2 Transmission Fluid in 5 L bottle, along with Rein Automotive OE filter and drain plug washer. Pentosin FFL2 is formulated on fully synthetic oil-based technology for safe operation at highest thermal loads and features special clutch friction performance.
---
Original Press Release:

CRP Automotive Introduces Pentosin DSG Transmission Service Kit for Audi/VW DSG



- Includes Pentosin FFL2 Transmission Fluid and Rein Automotive OE filter and drain plug washer -  



Cranbury, NJ – CRP Automotive, a leading source of OE-quality replacement and service parts, has introduced the Pentosin FFL2 Transmission Service Kit. The kit is designed for the required 40K mile service call on the new generation of Audi/Volkswagen (AVW) double clutch gear transmissions (DSG).



CRP Automotive developed the new kit to make the service operations easier and more convenient for shops. It includes the precise amount of Pentosin FFL2 Transmission Fluid in a 5L bottle, along with a Rein Automotive OE filter and drain plug washer.



Pentosin FFL2 is the only OE 'First Fill' and 'Service Fill' transmission fluid for the new generation of AVW double clutch gear transmissions. It is formulated on a fully synthetic oil-based technology for safe operation at even the highest thermal loads and features special clutch friction performance.



Mark Malone, Brand Director - Pentosin, noted, "We at CRP Automotive are very proud to offer this Pentosin DSG Transmission Service Kit, because we are able to utilize two key products from our amazing Pentosin and Rein Automotive brands to help make the job easier, faster, and more economical – the kit sells for 5% less then the components if purchased separately. This service kit is 100% OE, so technicians can trust the parts included and have confidence in their service work."



All Pentosin technical fluids are backed by the CRP Automotive standard of excellence.

For more information, visit: www.pentosin.net



Easy Online Lookup

The Pentosin Transmission Fluids program features easy look up on CRP's online application catalog, which can be accessed through the CRP Automotive Pentosin brand website, www.pentosin.net, or ShowMeTheParts, www.showmetheparts.com/crp.



About Pentosin: Deutsche Pentosin Werke GmbH (Pentosin) is a leading innovator and manufacturer of high-tech automotive fluids that are approved and recommended for use as both initial fill (OEM) and service refill by over twenty-five international automotive manufacturers. CRP has been Pentosin's NAFTA market partner since 1983, handling all sales and service activities in the United States, Canada, and Mexico. The Pentosin program includes antifreeze, brake fluid, central hydraulic/power steering fluid, motor oil, and transmission fluid.



About CRP Automotive

CRP Automotive is a part of CRP Industries, a leader in the marketing and supply of automotive parts and industrial products. CRP Automotive provides some of the industry's leading brand names, including ContiTech Automotive Belts, Rein Automotive® Parts and Accessories, Pentosin Technical Fluids, and AJUSA Engine Parts. All products are backed by the CRP promise of quality and superior service. Founded in 1954 as the North American partner of Continental AG, CRP Automotive has established a solid reputation for exceeding its customers' expectations. CRP maintains key distribution centers in New Jersey, California, Canada, and Mexico.



For additional information, visit: www.crpautomotive.com







More from Controls & Controllers