Service helps companies integrate CAD automation.
Press Release Summary: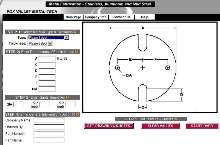 Synthesis Automation Services combines 3D parametrics with secure configuration/design interface to enable manufacturing company managers to add CAD automation to their departments. Services include project scoping and specification, providing all required software and licensing, optional secure internet/intranet automation hosting, and maintenance. Program also supplies backup, support, upgrades, development, and programming services.
---
Original Press Release:
Synthesis Introduces New Automated CAD Services

For manufacturers looking to benefit from the manufacturing design & sales process efficiencies added by advanced 3D parametrics combined with a secure configuration / design interface, Synthesis offers a new automation service.

Manufacturing company managers can quickly, safely and easily add the benefit of CAD automation to their departments with Synthesis Automation Services. Typical in-house programming projects involved steep learning curves, high failure rates, expensive software evaluation and development capital costs. Automated CAD services by Synthesis eliminate most of the risk and eliminates much of the high cost associated with an automation project.

Synthesis provides expert services to include project scoping and specification, providing all required software & licensing, optional secure internet/intranet automation hosting, maintenance, backup, support, upgrades, development and programming. Also, the broad range of experience & projects proving the applications of Synthesis CAD automation in many field reduces the risk for users even further in specifying and implementing this solution.

A typical automation project begins with a two month long scoping and automated CAD / Configuration programming demonstration project at no cost to the manufacturer. After proving the concept, if management decides to move ahead, the company can pay for the service with a low monthly fee beginning only after the project is developed and implemented in phases. No large up front capital costs or long budget cycles. Early phases typically quickly pay in cost savings for additional development. Companies can opt out of the service at any time with no penalty.

Many examples of Synthesis Internet or Intranet based automated production and sales drawings using Synthesis exist. Sheet metal manufacturer Fox Dimensions located in Green Bay Wisconsin uses Synthesis to generate thousands of unique sheet metal parts on line from their web site. Fox Dimensions . Also Fox Dimensions has a system where drawings go directly to the Numerical Control ( NC) system from the on line order form. Iterations of CAD drawings are created instantly and displayed in the customer's browser.

This low risk, high return Synthesis CAD automation model is being used by many companies. Most integrate their existing configuration or design programs with CAD automation for workstation or Internet usage.

For more information and on line examples visit Synthesis Company web site or call : 360-671-0417 to arrange a free automation demonstration using your sample CAD drawing.
More from Health, Medical, & Dental Supplies and Equipment