Server/Workstation supports genome sequencing applications.
Press Release Summary: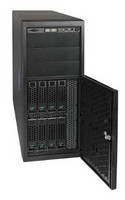 Based on Intel® Xeon® processor E5-2600 v2 family and Intel® Server Board S2600CP, Endurance 6341 Server employs high bandwidth PCI Express for data acquisition and storage options. Unit features RAID arrays of both solid state and enterprise class hard drives. To maximize up-time, 4U convertible server/workstation utilizes redundant/hot-swap power supply modules and cooling fans.
---
Original Press Release:

Server Enables Genome Sequencing to Reach New Level of Performance



WAUKESHA, Wis., -- Dedicated Computing, a global technology company, announced the release of its Endurance 6341 Server for genome sequencing applications.  Dedicated Computing designed the Endurance 6341 to deliver the most processor performance and fastest storage subsystem possible today to meet the demands of higher data acquisition rates and analysis to enable shorter sequencing runtimes.  



Utilizing the high performance Endurance 6341, original equipment manufacturers (OEMs) can reach the tipping point bringing the benefits of sequencing to a larger population.  The Endurance 6341 is based on the Intel® Xeon® processor E5-2600 v2 family and features the Intel® Server Board S2600CP.  It is a 4U convertible server/workstation employing high bandwidth PCI Express for data acquisition and storage options.  The Endurance 6341 features both high performance RAID arrays of fast solid state and enterprise class hard drives.  This server improves up-time and reduces mean-time-to-repair through redundant/hot-swap high-efficiency power supply modules and cooling fans.



"We are proud of our partnership with leading manufacturers in the genome sequencing industry" said Don Schlidt, CEO, Dedicated Computing.  "We are committed to providing solutions that help drive groundbreaking discoveries and technology advances in this critical segment of the Healthcare industry."



"As the genomics market grows, Dedicated Computing will enable Original Equipment Manufacturers to improve system performance and reduce their time to market." said Julie Malloy, Life Sciences Segment Manager, Intel Corporation.  "We are excited to work with Dedicated Computing who see the benefits of Intel technologies and take full advantage of the performance and throughput of these products as a part of their overall system solutions."



About Dedicated Computing

Dedicated Computing is a global technology company focused on solving the business problems of our customers through the design and deployment of innovative technology solutions.  Our customers, Original Equipment Manufacturers, (OEM) develop leading edge systems in specialized applications for Healthcare, Training and Simulation, Military, Industrial, and Energy Exploration. Our innovative products and services provide a complete solution for OEMs to advance the technology of their leading edge systems and extend their competitive advantage.



More information can be found at http://www.dedicatedcomputing.com



About Intel Corporation

Intel Corporation's vision is to deliver innovative computing technologies and solutions that will improve the quality of healthcare delivery and access while reducing unnecessary costs for billions of people worldwide.  Intel teams with governments, healthcare organizations, and technology innovators worldwide to build tomorrow's health IT tools and services.



More information can be found at http://www.intel.com/healthcare



CONTACT: Samantha Ehley, Marketing Programs Manager, (262) 953-1572, samantha.ehley@dedicatedcomputing.com

More from Computer Hardware & Peripherals