Server Rack Enclosure addresses heat flow, cable management.
Press Release Summary: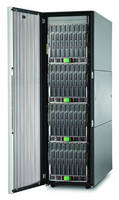 Accommodating server, storage, and switching products, HP 10000 G2 Series 1200mm Deep Rack consists of 19 in. rack in 42U and 47U heights with fully welded, 8-layer rolled steel frame that supports 2,500 lb max (dynamic) and 3,000 lb max (static). Design grants full cable access and features 100 in.² of additional perforations for optimal airflow. While front and rear door handles and locks promote security, side panels facilitate manageability and mounting.
---
Original Press Release:

New HP 10000 G2 Series 1200mm Deep Rack Addresses Next-Gen Servers, Heat Flow, and Cable Management



Introducing the new HP 10000 G2 Series 1200mm Deep Rack enclosure specifically designed for better cable management, hot air reduction, and accommodating longer next-generation server, storage and switching products. This is a 19-inch rack in 42U and 47U height with a patented eight-layer rolled steel frame construction for improved loading capacity up to 2500 lbs dynamically and 3000 lbs static. The rack can also be customized with a rack badge for corporate logos for a consistent IT image and easier rack identification.

The HP 10000 G2 Series 1200mm Deep Rack also offers:
- Fully welded (not bolted) frame
- 100 square inches of additional perforations for better airflow
- Full cable access
- Front and rear door handles and locks for added security
- Side panels for ease of manageability and mounting
- Cable management accessory compatible
- Rack stabilizer, baying, grounding kits
- Zero-U mounting areas to maximize space for servers and storage
- Three-year, limited warranty on parts

Customers can receive their HP 10000 G2 Series 1200mm Deep Rack fully loaded and ready for instant deployment when shipped on an optional shock pallet. Customers can also have their equipment preinstalled within the rack with cables already dressed neatly within the rack-saving valuable set up and unpacking time.

Availability and Pricing

HP 10000 G2 Series 1200mm Deep Rack is compatible with all 19-inch rack products. Available immediately and sold through Authorized Dealers, the HP 10000 G2 Series 1200mm Deep Rack starts at U.S. Internet price of $1749 and Canadian list price of CD$2,326. The stabilizing kit, baying kit, grounding kit, and side panels are optional and sold separately. Pricing may vary by country or region.

Additional information is available at the Hewlett Packard Web site at http://www.hp.com/go/infrastructure

HP Contacts Include:

Hewlett Packard
P.O. Box 692000
20555 State Highway 249
Houston, Texas 77269-2000
1-800-282-6672 or 1-281-370-0670
U.S. and Global Site: http://www.hp.com/go/infrastructure

In Canada: http://welcome.hp.com/country/ca/en/welcome.html

Mr. Ankit Gupta, HP
Product Manager
Ankit.gupta@hp.com
281-518-9908

More from Chemicals & Gases