Server Module and Gateway foster efficient communications.
Press Release Summary: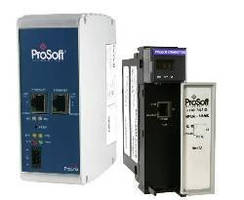 In-chassis IEC 61850 Server Module for ControlLogix® allows Rockwell Automation® ControlLogix PACs to emulate Intelligent Electronic Devices (IEDs) on IEC 61850 Ethernet network. PAC can then exchange data with SCADA systems. Also available, EtherNet/IP™ to IEC 61850 Client Gateway enables IEDs on IEC 61850 network to communicate with PACs on EtherNet/IP™ network. Dual independent Ethernet ports allow protocols to be on different subnets.
---
Original Press Release:

ProSoft Technology® Releases IEC 61850 Server Module for ControlLogix® and EtherNet/IP(TM) to IEC 61850 Client Gateway



Bakersfield, Calif. — ProSoft Technology®, a leading industrial communication company, is pleased to announce the release of the IEC 61850 Server Module for ControlLogix® and the EtherNet/IP™ to IEC 61850 Client Gateway.



The in-chassis module allows Rockwell Automation® ControlLogix® PACs to emulate Intelligent Electronic Devices (IEDs) on an IEC 61850 Ethernet network, enabling the PAC to exchange data with SCADA systems. In substation automation applications, the module enables non-smart electrical substation devices, such as transformers and switchgear, to present their data as IEC 61850 IEDs to the SCADA system. An Add-On Instruction in RSLogix™ 5000 allows for data transfer between the PAC and the module, simplifying data retrieval for the user.



The EtherNet/IP™ to IEC 61850 gateway allows IEDs on an IEC 61850 network to communicate with PACs on an EtherNet/IP™ network. The gateway's two independent Ethernet ports allow the protocols to be on different subnets. The configuration software that comes with the gateway uses IED configuration files to import complex IEC 61850 data structures. Our utility enables premier integration by creating AOIs that are imported into your Logix project, using the IEC 61850 tags so users don't have to retype them.



These two new products are the latest energy solutions that ProSoft Technology offers. For more on ProSoft Technology's IEC 61850 connectivity solutions, visit psft.com/Au7.



ProSoft Technology: Where Automation Connects



ProSoft Technology specializes in the development of industrial communication solutions for automation and control applications. Our primary focus is to provide a connectivity interface that links dissimilar automation networks as seamlessly as if they were all from the same supplier. Essentially, ProSoft Technology products act as an interpreter so data can flow easily between machines that speak different languages. ProSoft Technology products include plug-in interfaces for large automation suppliers' controllers such as Rockwell Automation® and Schneider Electric®, as well as stand-alone gateways and industrial wireless solutions. ProSoft products can be found in nearly every industry that employs automation. Starting with one computer chip in 1988, ProSoft Technology now has over 400 products supporting more than 60 different industrial computer languages. Our goal is to support our customers from pre-sales through the entire life-cycle of the application. With 500 distributors in 52 countries and Regional Offices in Asia Pacific, Europe, the Middle East, Latin America and North America, ProSoft Technology is able to provide quality products with free technical support to customers worldwide.



ProSoft Technology, Inc. 

5201 Truxtun Ave , 3rd Floor

Bakersfield, CA 93309 

Tel: +1 661-716-5100 

info@prosoft-technology.com

More from Electronic Components & Devices