Server comes with 2.0, 2.5, or 2.8 GHz Xeon MP processor.
Press Release Summary: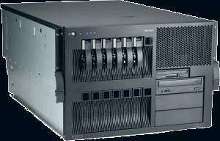 Equipped with mainframe-inspired Enterprise X-Architecture(TM) features, xSeries 255 server provides hot-swappable redundant power supplies, redundant cooling fans, and HDD bays. Offered in tower or rack models, unit offers 512 MB or 1 GB of PC1600 100 MHz ECC DDR memory, integrated systems-management processor, and Gigabit Ethernet. System provides full-length hot-swap/hot-add PCI-X/PCI slots and ATI video controller in addition to 16 drive bays.
---
Original Press Release:

IBM xSeries 255 Servers - Higher Performing 2.0, 2.5, and 2.8 GHz Xeon MP Processors Providing Greater System Availability and Management


At a Glance

Equipped with mainframe-inspired Enterprise X-Architecture(TM) features, the xSeries 255 server provides hot-swap redundant power, hot-swap redundant cooling fans, hot-swap HDD, hot-swap/hot-add PCI-X along with greater systems-management control. The xSeries 255 server comes in tower or rack models and features:

· 2.0 GHz, 2.5 GHz, or 2.8 GHz / 400 MHz, Intel Xeon MP processors
· Shipped system with 512 MB or 1 GB of PC1600 100 MHz ECC DDR memory
· Two 370-watt, hot-swap redundant power supplies standard
· Integrated systems-management processor and Gigabit Ethernet
· Seven available, full-length PCI-X/PCI slots, ATI video controller
· Sixteen drive bays - One standard diskette drive and one 48x-20x CD-ROM, twelve hot-swap HDD bays, and two 5.25-inch half-high bays
· Up to 880 GB hot-swap disk storage with optional second backplane
· One serial port (one 16550A compatible), four hot-pluggable USB, two RS-485 systems-management ports, mouse and keyboard ports

Overview

The xSeries® 255 models bring high levels of availability, reliability, serviceability, and enhanced systems-management control to your general-purpose, mainstream server applications. Reliability and availability features include:

· One to four-way processor capability
· Six Active 64-bit/100 MHz PCI-X slots allowing the removal or addition of PCI-X adapters while system is running
· Adaptec AIC 7899 Dual Ultra160 SCSI controller
· Broadcom 5703 Gigabit Ethernet controller
· Sixteen bays for diskette drive, CD-ROM, internal storage, tape drive
· Four universal serial bus (USB) ports, hot-pluggable
· Hot-spare memory technology to protect data
· Memory mirroring for high availability
· Integrated (on board) systems-management processor
· Server Works Grand Champion 4.0 HE chip set, controls memory, I/O and PCI-X bridge
· Nine hot-swap redundant cooling fans; front and rear of system
· Two 370-watt power supplies standard; redundant power with four
· Systems-management firmware now supports full interconnect and alerting via RS-485 serial ports and numeric error logging

Powered and Scaled for e-business Growth

· Powerful 2.0 GHz, 2.5 GHz, and 2.8 GHz Intel® Xeon MP processors with 1 MB L3 cache and 400 MHz front side bus
· Up to 24 GB of 100 MHz PC1600 DDR ECC Chipkill(TM) memory supported
· High-performance integrated controllers; Broadcom 5703 Gigabit Ethernet and Adaptec 7899 Dual-channel Ultra160 SCSI (160 MB/s)
· Six hot-swap drive bays standard; support high-performance Ultra160 and qualified Ultra320 HDDs and Ultra320 RAID controllers

High Availability for Around-the-Clock e-business

· Integrated systems-management processor
· Monitoring of system status and key server components
· Light Path Diagnostics and support for optional Remote Supervisor Adapter
· Support for Alert Standard Format (ASF)
· Wake on LAN®

Service and Support Perfected for e-business

· ServerGuide(TM) and IBM Director
· IBM Server Support and Web support
· Three-year, on-site, limited warranty

Key Prerequisites

Monitor and keyboard/mouse (rack models)

Availability Date

June 30, 2003

More from Printing & Duplicating Equipment