Serval-T Ethernet Switches feature on-chip phase-locked loop.
Press Release Summary: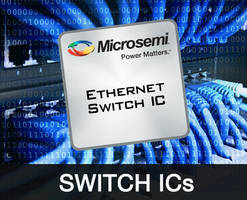 Serval-T Ethernet Switches are available in Serval-T (VSC7415), Serval-TE (VSC7435) and Serval-TE10 (VSC7437) models. Units use VeriTime™ timing technology and are suitable for mobile backhaul, small cell and Ethernet access and network interface devices. Products feature two ports of integrated copper PHY, 10G Serializer/Deserializer and an IEEE 1588/Synchronous Ethernet digital phase locked loop. Switches provide lower chip count and are ideal for 5G network applications.
---
Original Press Release:
Microsemi Announces New Serval-T Ethernet Switch Product Family Enabling Nanosecond Accurate 1588 Solution in a Single Device
New Devices Combine PLL, Cu PHY and CPU with a Carrier Ethernet Switch to Deliver Unique Access Networking Solution
Microsemi Corporation (Nasdaq: MSCC), a leading provider of semiconductor solutions differentiated by power, security, reliability and performance, today announced its new Serval-T™ Ethernet switch product family delivering nanosecond accurate IEEE™ 1588 solutions that can meet next-generation 5G network as well as location-based service requirements. This unique device family, which includes Serval-T (VSC7415), Serval-TE (VSC7435) and Serval-TE10 (VSC7437), integrates Microsemi's Carrier Ethernet Switch capabilities with an on-chip phase-locked loop (PLL), expanding the company's portfolio of access networking and timing solutions.
The new devices deliver a flexible combination of 1GE, 2.5GE and 10GE, making them attractive for access communication equipment such as mobile backhaul, small cell and Ethernet access device (EAD)/network interface device (NID). The products leverage a virtualized service aware architecture (ViSAA™) - a silicon implementation that is differentiated by hardware-based Ethernet service - and also provide operation, administration and maintenance (OAM), service activation testing (SAT) and protection switching capabilities. They also offer low power, translating to cost savings for service providers, as well as the small size necessary to accommodate outdoor and other installation constraints. Combining these features with a turnkey software solution that provides CE2.0 certified functionalities and a leading servo algorithm solution enables Microsemi customers to build market-ready solutions that can meet stringent service provider networking needs.
"As our customers prepare for the transition to 5G and look to support location-based services, our new Serval-T Ethernet switches leverage our deep expertise in Carrier Ethernet switching and timing to support an impressive less than two nanosecond timestamp resolution and accuracy for their next-generation deployments," said Uday Mudoi, vice president of marketing for Microsemi's Ethernet Networking Technology (ENT) group. "As the only company offering Ethernet switches and PHYs with highly accurate timestamping capabilities, Precision Timing Protocol (PTP) software, advanced servo algorithms and grandmaster timing products, Serval-T brings together a breadth of our capabilities in a single chip solution, demonstrating Microsemi's commitment to continued innovation."
According to market research firm IHS Markit, small cell backhaul equipment revenue will grow to $1.2 billion in 2021 at a five-year compound annual growth rate (CAGR) of 51 percent, with next-generation 5G networks fueling this market growth. Microsemi's new Serval-T (VSC7415), Serval-TE (VSC7435) and Serval-TE10 (VSC7437) devices cater to this growing demand, offering best-in-class features to ensure customers are prepared for the specific requirements of these network deployments.
Microsemi's new Serval-T Ethernet switch product family has been significantly enhanced from the previous generation of devices, with two additional ports of integrated copper PHY, 10G Serializer/Deserializer (SerDes), an IEEE 1588/Synchronous Ethernet (SyncE) digital phase locked loop (DPLL), as well as a lower chip count from three to one, lowering bill of materials costs and enabling smaller form factor designs and lower power solutions. This simplifies designs, reduces costs and accelerates time to market for customers. The devices also utilize VeriTime™, Microsemi's patent-pending timing technology that delivers highly accurate IEEE 1588 network timing and synchronization implementation, to deliver nanosecond-accurate timestamping on all ports.
In comparison to competing devices that need multiple external components to support similar features, Microsemi uniquely builds the products' offerings into the devices' hardware - making the solution faster with lower power and superior scale as more services are added. This also enables the devices to perform multiple operations in parallel, shortening development time.
Product Availability
Microsemi's new Serval-T Ethernet switch product family, including its Serval-T (VSC7415), Serval-TE (VSC7435) and Serval-TE10 (VSC7437) devices, is available now. For more information, visit https://www.microsemi.com/products/ethernet-solutions/ethernet-switches or email sales.support@microsemi.com.
About Microsemi's Product Portfolio for Communications
Microsemi is a premier supplier of semiconductor, system and services differentiated by performance, power reliability and security. Microsemi enables customers to build solutions in a range of applications including Ethernet switches, 100G Ethernet and optical transport network (OTN), cellular infrastructure including LTE-Advanced and 5G, small cells, microwave and millimeter wave systems, Wi-Fi access points, XGS PON or NGPON2 based converged wireline access, broadband gateways including fiber/PON, G.fast and DOCSIS3.1, and home/on-premise security/surveillance. Microsemi's communications portfolio includes high accuracy timing and synchronization including IEEE1588 PTP and NTP servers, software and components; low jitter PLL and high fan-out buffers, enterprise and carrier Ethernet switches and PHYs, voice and audio intelligence including AEC and ASR, lowest power FPGAs with high security and reliability; PCI Express Switches, OTN PHYs and processors, optical drivers, integrated Wi-Fi front-end modules (FEM) and power-efficient and multi-standard Power-over-Ethernet (PoE) ICs and systems, and G.hn, G.fast and xDSL line drivers. For more information, visit http://www.microsemi.com/applications/communications.
About Microsemi
Microsemi Corporation (Nasdaq: MSCC) offers a comprehensive portfolio of semiconductor and system solutions for communications, defense & security, aerospace and industrial markets. Products include high-performance and radiation-hardened analog mixed-signal integrated circuits, FPGAs, SoCs and ASICs; power management products; timing and synchronization devices and precise time solutions, setting the world's standard for time; voice processing devices; RF solutions; discrete components; enterprise storage and communication solutions, security technologies and scalable anti-tamper products; Ethernet solutions; Power-over-Ethernet ICs and midspans; as well as custom design capabilities and services. Microsemi is headquartered in Aliso Viejo, Calif., and has approximately 4,800 employees globally. Learn more at www.microsemi.com.