Rope / Cable / Wire Cutters and Cutting Machinery
Serrated Cutter slices Kevlar in fiber optic cable.
Press Release Summary: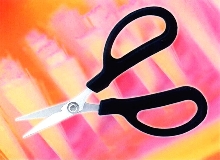 Model 45-344 cuts Kevlar strength member found in simplex and duplex fiber cable. Blades are finely serrated and ground at aggressive angle to slice cleanly through Kevlar. To lessen dulling of blades, cutter has rugged breaker notch that cleanly shears jacket and breaks glass fiber, so technician only uses serrated blades for cutting and trimming Kevlar member. Cuter has textured, cushioned grip handle for comfortable hold with less stress on wrist and hand.
---
Original Press Release:

IDEAL Cutter For Fiber Optic Cable Features Life-Extending Breaker Notch


SYCAMORE, IL, August 20, 2002 - Taking aim at fiber optic cable assembly houses, fiber technicians and datacom contractors, IDEAL INDUSTRIES, INC., a worldwide supplier to the data communications industry, today introduced the Model 45-344, a serrated cutter for Kevlar (found in Simplex and Duplex fiber cable) with a patent pending, rugged breaker notch.

The Model 45-344 addresses a common complaint among technicians about conventional cutters which can dull easily when used for all three steps to cutting cable: shearing through the cable jacket, breaking the glass fiber, and cutting the protective Kevlar strength member. The result is dull blades, high replacement costs and less than optimal connections.

To combat this problem, IDEAL gave its Model 45-344 a rugged notch for "doing the dirty work" of cleanly shearing the jacket and breaking the glass fiber. The technician only uses the precision-ground, finely serrated blades for cutting and trimming the Kevlar strength member, greatly reducing the likelihood of dulling.

In addition to its breaker notch, the IDEAL Model 45-344 offers an arsenal of professional-grade performance features. The high-leverage, non-slip shear cuts with ease, and is especially effective for cutting the thin Kevlar strands that often slide out the front of the shears. The blades are machined from superior quality high-carbon stainless steel so they will outlast regular blades many times over. Moreover, the blades are finely serrated and ground at an aggressive angle to slice cleanly through the Kevlar.

The textured, cushioned grip handle assures a more comfortable hold along with less stress on the wrist and hand.

For more information, contact IDEAL INDUSTRIES, INC., Becker Place, Sycamore, Illinois 60178. Phone 1-800-947-3614, Fax: 1-800-533-4483. On the web, www.idealindustries.com.

IDEAL INDUSTRIES, INC. has been serving the electrical industry since 1916. IDEAL is one of the world's leading manufacturers of professional quality tools and supplies serving installation professionals in the construction, maintenance, data communications and original equipment manufacturing industries.

NOTE: Kevlar is a registered trademark of DuPont.

CONTACT:
Dan O'Connell
O'Connell Comrmunications, Inc.
1038 South LaGrange Road, Suite 5
LaGrange, IL 60525
708-482-0212
fax, 708-482-0216
cell, 708-363-6118
oconnellcom@earthlink.net
oconnell@ameritech.net


More from Agricultural & Farming Products