Series 9200 PetroAlert Gas Analyzer comes with dual-flame ionization detectors.
Press Release Summary: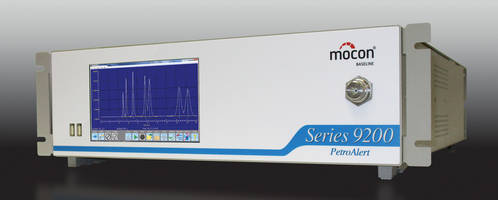 Series 9200 PetroAlert Gas Analyzer is used for both gas chromatography and total hydrocarbon analysis. Units GC detector performs C1 to C5 analysis with detection limit of < 10 ppm as methane whereas THA detector monitors total hydrocarbons down to 0.003% and up to 100% as methane. Analyzer comes with programmable touchscreen and automatic calibration feature. Unit allows remote accessibility when it is connected to Internet-accessible network.
---
Original Press Release:
With New PetroAlert® Well-Logging Gas Analyzer from MOCON-Baseline, Two Instruments Become On
Baseline, the industrial analyzer group within MOCON, Inc. and a leader in instruments used to test, measure and analyze gases, has introduced the latest addition to its PetroAlert® Series gas analyzers. The new Series 9200 PetroAlert gas analyzer combines the selective detection of a gas chromatograph (GC) with the continuous monitoring abilities of a total hydrocarbon analyzer (THA) in a single, compact, sensitive and stable instrument.
The Series 9200 is specifically engineered to meet the requirements of the oil and gas industry's exploratory well-logging process. Its speed and accuracy allow well loggers monitoring a drill site to analyze the hydrocarbons within a well both quantitatively and qualitatively, while drilling. That ability makes for a more efficient drilling process and more timely evaluation of a well's potential. Each PetroAlert is factory configured to meet specific customer monitoring requirements.
The Series 9200 PetroAlert incorporates dual-flame ionization detectors (FIDs): one dedicated to the GC and the other dedicated to total hydrocarbon measurement. The GC performs fast C1 to C5 analysis (< 30 seconds, preserving the C1-C2 separation at 200:1 concentration ratios) with a detection limit of < 10 ppm as methane (CH4), while the total hydrocarbon detector continuously monitors total hydrocarbons down to 0.003% and up to 100% as CH4.
The microprocessor-based PetroAlert is controlled by a fully integrated and powerful system software - eliminating the need for an external PC. The 9200 receives instructions either directly—using a programmable touchscreen on the front panel - or through remote access when the analyzer is connected to an Internet-accessible network and utilizing the free PC software provided with each instrument.
The analyzer's data collection features include chromatograms and user-definable options for exporting data to logging software. Data storage options are either continuous or based on events, such as alarms.
The PetroAlert's automatic calibration feature is ideal for unattended operation. The instrument's compact size and design make it suitable for field applications, allowing for either a 19-in rack mount configuration or bench top use.
Utilizing MOCON - Baseline's extensive experience, this instrument is designed with key features to meet a geologist's technological requirements, as well as offer the best return on investment. Baseline's PetroAlert analyzers are industry proven and adopted worldwide by major oil and petrochemical companies, as the finest FID-based hydrocarbon field analyzer available while providing automated lab quality data.
For more product specific information, please contact info.baseline@ametek.com
About Baseline
Baseline manufactures toxic gas monitoring systems, custom gas analyzers and detectors, and air quality testing equipment. It is a unit of MOCON, Inc., a leading provider of detectors, instruments, systems and consulting services to research laboratories, production facilities, and quality control and safety departments in the medical, pharmaceutical, food and beverage, packaging, environmental, oil and gas, and other industries worldwide. For more information, visit www.baseline-mocon.com.
About AMETEK, Inc.
Acquired in June 2017 by AMETEK, Inc., MOCON is now a unit of AMETEK Process & Analytical Instruments. AMETEK is a leading global manufacturer of electronic instruments and electromechanical devices with annual sales of approximately $4.0 billion. More information is available at www.ametek.com.
Contact This Company Download Spec Sheet
More from Sensors, Monitors & Transducers