Level Sensors / Detectors / Transducers
Series 40 TL Tank Level Sensor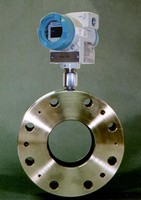 CARNEGIE, PA (December 3, 2007) - Red Valve Company's Series 40TL Tank Level Sensors are specifically designed for sensing level in storage tanks. Suitable for sewage, clean water, fuels, oils, etc. The 40TL Tank Level Sensor is not affected by foaming, ice and other conditions that can cause errors in ultrasonic and capacitance level sensors. The Series 40TL Sensor uses a high-sensitivity, solid-state pressure transmitter that is completely isolated from the process fluid by an elastomer sleeve that transmits pressure through a fluid bill.

The pressure transmitter is available to sense gauge pressure for vented tanks and differential pressure for pressurized tanks. It can easily be calibrated for process fluid density or specific gravity in any height of tank. The output signal is 4-20 mA. An integral LED display is available and can be calibrated in virtually any units - e.g. percentages, inches H2O, etc.

The elastomer diaphragm provides maximum surface area with minimum diameter, allowing installation close to the bottom of the tank. The sensor can also be "rodded" from the outside of the tank to the inside of the tank, if necessary, in the event of severe blockage.

For more information on this product and Red Valve's full line of quality pinch valves, control valves, knife gate valves, pressure sensors, and rubber products, contact Red Valve Co., Inc., 700 N. Bell Ave., Carnegie, PA 15106, call us at 412-279-0044, or e-mail us at valves@redvalve.com. Visit us at www.redvalve.com.


More from Architectural & Civil Engineering Products