Serial-to-Ethernet Gateway provides Internet interface.
Press Release Summary: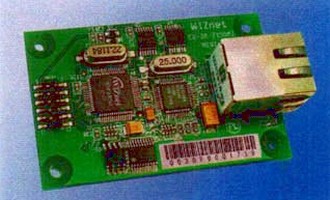 Complete with RJ-45 connector for instant use, RoHS-compliant Model EG-SR-7150MJ is based on WIZnet's TCP/IP-offload IC W3150A with Realtek's RTL8201 Ethernet driver chip. It features built-in Atmel AT89C51RC2 8-bit microcontroller with 32 KB Flash memory and 32 KB SRAM. Software set-up allows users to create 10/100 Mbps Ethernet interface with max serial rate of 230 Kbps. Gateway supports TCP server, TCP client, and UDP modes of operation.
---
Original Press Release:

Serial-to-Ethernet Gateway Offers Instant Internet Interface



Pittsford, NY: EG-SR-7150MJ is a RoHS-compliant, ready-to-go serial to Ethernet module, complete with mounted RJ-45 connector for instant use. Simple software set-up allows users to create a 10/100Mbps Ethernet interface with a maximum serial rate of 230Kbps rapidly. Now any device with serial inputs and outputs can be Ethernet/Internet-enabled for less than $35 (qty 1).

Set-up for the 1.6" x 2.2" EG-SR-7150MJ is very easy with the configuration software provided. Three different modes of operation are supported: TCP server, TCP client, and UDP. TCP guarantees data delivery, but UDP doesn't require acknowledgement, so communication can be faster. Once the TCP client and server have established connection, data can be transparently transmitted bi-directionally. EG-SR-7150MJ's IP Address can be manually assigned (static IP), or IP, subnet and gateway address can be acquired from the DHCP server automatically. Serial commands can be hardware- or software-triggered. Configuration can be done on-site if need be, even without a PC, using a simple serial device (keypad, etc.)

EG-SR-7150MJ is based on WIZnet's TCP/IP-offload IC W3150A with Realtek's RTL8201 Ethernet driver chip. EG-SR-7150MJ has a built-in Atmel AT89C51RC2 8-bit microcontroller with 32KB Flash Memory and 32 KB SRAM. EG-SR-7150MJ offers 10/100 Mbps auto-sensing on its RJ-45 connector. Protocols supported include TCP, UDP, IP ARP, ICMP, MAC, PPPoE. Serial signals available are TXD, RXD, RTS, CTS, GND. RS232 data formats: Parity - None, Even, Odd; 7/8 Data bits; Flow Control: RTS/CTS, XON/XOFF. EG-SR-7150MJ needs only 3.3V@150mA.

Evaluation/Set-up kit EG-SR-7150MJ-EVB provides DB-9 connector for quick PC hook-up, CD (Configuration Program, Schematic, Manual), a 5V 500mA Power Adapter and Serial and UTP cables.

EG-SR-7150MJ is available now at $33.99 (qty 1) from stock at Saelig Co. Inc. www.saelig.com 1-888-7SAELIG from stock info@saelig.com. EG-SR-7150MJ-EVB is also available now at $189.00.

More: Alan Lowne, 585-385-1750 fax 585-385-1768 Saelig Company, Inc., 1160-D2 Pittsford-Victor Rd. Pittsford, NY 14534 USA. info@saelig.com

More from Laboratory and Research Supplies and Equipment