Serial PCMCIA Cards bring communications to small devices.
Press Release Summary: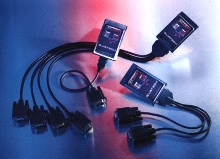 Communications cards are suitable for portable peripherals such as GPS receivers, bar code scanners, printers, digital cameras, and fax/modems. Cards include 1 and 2 port asynchronous RS232 and RS422/485 versions with 16750 UARTs. They operate in full-duplex, manual half-duplex, and auto-toggle half-duplex modes. UARTs contain 64-byte FIFOs which, with clock-multiplying, make cards capable of data rates to 921.6 kbps. Cards are compatible with 3.3 and 5 V systems.
---
Original Press Release:
Upgraded Quatech Serial PCMCIA Cards Provide Industry Leading Speeds and Dramatically Reduced Power Requirements

Akron OH, May 23--Quatech Inc., a leading manufacturer of data connectivity products for PC-based systems, today introduced redesigned RS-232 and RS-422/485 asynchronous serial PCMCIA cards. With this upgrade, Quatech serial PC-Cards provide the highest data rates in the industry. The new design also significantly reduces the cards' power requirements, making them even better suited for use in laptop and handheld computers, where prolonging battery life is crucial.

Quatech serial PCMCIA cards are a flexible, low-cost, interface choice for using portable serial peripherals such as GPS receivers, bar code scanners, and printers, digital cameras, and fax/modems with portable computers. They are also ideal solutions for a wide variety of applications including field data collection, industrial monitoring and control, and office automation.

Quatech's serial PCMCIA upgrade enhances their one and two port asynchronous RS-232 and RS-422/485 cards with 16750 UARTs. These UARTs contain 64-byte FIFOs which, along with Quatech's special clock-multiplying feature, make the cards capable of data rates up to 921.6 kbps-an eight-fold improvement over the 115.2 kbps provided by a standard serial port. In addition, the cards have been re-engineered with new cutting-edge components, making them compatible with both 3.3V and 5V systems, and lowering the overall power requirements. The cards also have ruggedized connectors that can be easily removed for safe storage. Support is provided for Windows 95/98/Me/NT/2000/XP, Windows CE, LINUX and OS/2.

Quatech's RS-422/485 serial PCMCIA cards have additional features that make them even more unique. The cards can function in full-duplex, manual half-duplex, and Auto-Toggle half-duplex modes. Specifically designed to increase speed and convenience over the older software controlled method, Quatech's Auto-Toggle mode enables the hardware itself to regulate data flow by only driving lines while actively transmitting data.

Also notable is that Quatech is able to provide these vastly improved products at absolutely no increase in price. In fact, 2002 pricing for Quatech serial PCMCIA cards is even lower than it was in 2001.

List prices for Quatech one and two port serial PCMCIA cards are as follows: SSP-100 (1-port RS-232)--$129, DSP-100 (2-port RS-232)--$199, SSP-200/300 (1-port RS- 422/485)--$169, DSP-200/300 (2-port RS-422/485)--$229. While the current upgrade covers Quatech's one and two port serial PCMCIA cards, their four port cards for both RS-232 and RS-422/485 are slated for the upgrade later this year. Complete details and product specifications for Quatech's entire line of serial PCMCIA cards can be found on their website. Call 1-800-553-1170, e-mail sales@quatech.com, or visit www.quatech.com for more information.

About Quatech: Quatech supplies the industry's most reliable data connectivity solutions. It achieves this high level of reliability by virtue of quality design and manufacturing, and service and support that exceed expectations. Its customers include Fortune 500 companies, government agencies, and small and mid-size system integrators and VARs in a variety of markets including banking, retail, industrial process control, security, and hospitality. Founded in 1983, and headquartered in Akron, OH, the company sells and supports its solutions through a network of distributors in over 30 countries. Website: www.quatech.com.
More from Communication Systems & Equipment