Serial Memory Key has unique identifier.
Press Release Summary: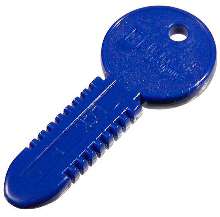 With I²C(TM) interface, IIK series electronic memory key has EEPROM with unique 48-bit register that cannot be changed by user. Series includes light-duty, 1 and 2 Kb data carriers that provide data storage and transfer for end-user applications. Product offers solid molded construction with wear-resistant exterior, which protects embedded memory chip from physical damage and harsh environmental influences.
---
Original Press Release:

Datakey Electronics Announces Unique Identifier Built Into Re-Programmable Keys


Burnsville, February 17, 2003 - Datakey Electronics, Inc. manufactures products for Original Equipment Manufacturers (OEMs), consisting of proprietary memory keys and other custom-shaped tokens containing non-volatile memory. Datakey Electronics' products are a convenient, rugged way to carry electronic data and to control access. These products are used world-wide in hundreds of military and commercial applications, cost-effectively providing a reliable way of storing and transporting electronic information where conventional methods would not survive.

Datakey Electronics has begun production of a new IIK Series of unique identifier electronic memory keys with a standard I²C(TM) interface. The IIK Key's EEPROM has a unique 48-bit register that cannot be changed by the user. This register can be used to eliminate any possibility that the key could be copied. These IIK Series light-duty Serial Memory Keys are economical 1Kb and 2Kb data carriers that provide convenient data storage and transfer for end-user applications.

"This addition to our line of rugged, portable memory keys was in response to customer demand for a more secure key at a lower cost." commented Jeff Daniel, Business Development Manager, Datakey Electronics, Inc. "Customers will be able to use the unique serial number to prevent duplication of keys by storing a list of the serial numbers before dispatching the keys or by using the key's serial number as a unique "seed" for encrypting data onto the key."

The IIK Series of Keys feature Datakey Electronics, Inc.'s industry-leading solid molded construction, rugged wear-resistant exterior and long-lasting contacts. Unlike other cards and carriers that can easily fail, the key's body protects the embedded memory chip from physical damage and harsh environmental influences. They can be sterilized, dropped in the mud, washed, exposed to electromagnetic fields or chemicals-and they'll still work.

Datakey Electronics provides a complete set of components for designers implementing IIK key-based solutions. The IIK is compatible with Datakey Electronics' KC4210 Series of panel mount or board mount Keyceptacles®. It is also supported by the new KeyLink(TM) IIs RS-232 Universal Reader/Writer.

The primary applications for secure data carriers are personal identification, cashless vending, loyalty programs and access control.

About Datakey Electronics, Inc.

Datakey Electronics, Inc. has a world-wide base of customers including Microsoft, General Dynamics, Raytheon, Siemens, New York Health and Hospital Corporation, Gasboy, and many other multi-national corporations.

Datakey Electronics, Inc. uses the latest electronic memory technology and manufacturing techniques to provide both off-the-shelf and custom products. Datakey Electronics products solve difficult data transportation problems, security problems, and access control problems. These products are packaged in convenient key and custom-shaped tokens and are supported by a full line of peripherals for programming and access. Design services are available for custom products and system applications.

Datakey Electronics, Inc., based in Burnsville, MN, is a minority woman-owned business and boasts a complete manufacturing facility with substantial capacity for production growth.

More from Electronic Components & Devices